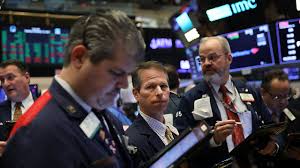 Stocks set to fall sharply after Gary Cohn resigns
Gary Cohn's abrupt exit from the White House is setting off alarm bells on Wall Street.
The Dow was set to open nearly 300 points lower Wednesday after the White House announced late Tuesday that Cohn, President Trump's top economic adviser, was resigning in the midst of trade policy dispute.
Cohn, a former Goldman Sachs (GS)president, helped design Trump's tax cuts and was one of the administration's leading free trade proponents. He served as a balm for investors and his departure is stirring fears that Trump will follow through on his plan to enact sweeping tariffs on imported steel and aluminum.
"It signals that the Trump administration is absolutely going to move forward with tariffs and the risk of a trade war is now more elevated," said Chris Zaccarelli, chief investment officer at Independent Advisor Alliance. He called Cohn a "market-savvy and well regarded voice of reason within Trump's inner circle."
Related: Gary Cohn's exit stokes fears that Trump will fight a trade war
Lloyd Blankfein, the CEO of Goldman Sachs, sent out a tweet on Tuesday crediting Cohn for his service and saying he is "disappointed to see him leave."
Trump's tariff announcement last week shook Wall Street and prompted swift backlash from top US trading partners.
The markets recovered on Monday and Tuesday, as investors gained confidence House Speaker Paul Ryan and top GOP leaders would soften Trump's position on tariffs. Now, with Cohn's resignation, there will be one less voice in the White House to push back on protectionist policies.