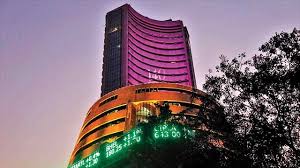 Market Live: Nifty falls 1,000 pts from record high; banks tumble amid PNB fraud case
12:27 pm Sugar Production: Sugar industry body ISMA revised 2017-18 sugar production target to 29.5 million tonnes from 25.1 million tonnes.
Sugar production from October-February is at 23.05 million tonnes.
12:15 pm Disruption in Parliament: The proceedings of the Lok Sabha
were disrupted for the third consecutive day amid protests by various parties, including NDA allies TDP and Shiv Sena over various issues.
As soon as the House met for the day, members from various parties, including TDP, Shiv Sena, TRS, YSR Congress, AIADMK and TMC started raising slogans over various issues, following which Speaker Sumitra Mahajan adjourned the proceedings for an hour this morning
Most of the protesting members were in the Well before the Speaker took her chair to conduct the proceedings. Members from the Left and the Congress were seen raising slogans from their benches.
The opposition has been protesting over various issues, including the PNB scam, since Monday when Parliament had reconvened after a month-long recess in the Budget session.
12:10 pm JLR Global Sales: Tata Motors-owned Jaguar Land Rover (JLR) today reported 2.6 percent decline in global sales at 39,911 units in February.
Sales of Jaguar brand of vehicles in February were at 11,565 units, a fall of 5.2 per cent, the company said in a statement.
Land Rover range posted sales of 28,346 units in the month, down 1.5 per cent, it added.
The company said retail sales of 39,911 Jaguars and Land Rovers in February were 2.6 per cent down on "the previous year's all-time high".
"Solid demand in China (up 3.3 percent) and other overseas markets (up 1.5 percent ) was offset by lower sales in the UK (down 15.2 percent for the month) and Europe (down 6.9 percent) , where trading conditions remained challenging.
12:00 pm PNB Chief appears before SFIO: Punjab National Bank Managing Director and CEO Sunil Mehta today appeared before the Serious Fraud Investigation Office (SFIO) after being summoned for recording his statement in connection with the Rs 12,636 crore fraud at the bank.
Yesterday, officials from Axis Bank and ICICI Bank had also appeared before SFIO, which is the investigating arm of the ministry of corporate affairs.
SFIO is also expected to call officials of nearly 31 banks which have an exposure to the companies of diamond traders Nirav Modi and Mehul Choksi.
11:51 am Market Update: The market extended losses as the Sensex fell more than 200 points and the Nifty was trading below the 10,200 levels, dragged by banks.
With today's fall, the Nifty corrected 1,000 points from its record high of 11,171.55 on January 29, 2018.
PSU Bank is the biggest loser among sectoral indices, falling 4 percent after the investigation in PNB fraud case deepened.
The PNB share price lost nearly 4 percent as its MD and CEO Sunil Mehta appeared before Serious Fraud Investigation Office after being summoned in fraud case.
11:40 am Relief package for Telecom: The Cabinet may consider a relief package for the financially-stressed telecom sector, a senior government official said.
The proposal is based on the recommendations of the inter-ministerial group (IMG) on the revival of the sector, and includes extending the duration of spectrum payment for telcos.
The Cabinet could consider relief measures for telecom industry at its meeting today, the official said on condition of anonymity.
As part of relief measures for the debt-ridden telecom sector, the Telecom Commission had earlier concurred with the IMG recommendation to extend the time period for the payment of spectrum bought in auctions by operators to 16 years from the current 10 years.
11:30 am Market Update: Benchmark indices extended losses in late morning deals as the Sensex was down 160.66 points to 33,156.54 and the Nifty fell 58.50 points to 10,190.80, weighed by banks.
Nifty PSU Bank index slumped 3 percent and Nifty Bank lost over a percent while Nifty Midcap index dropped 1.4 percent.
About four shares declined for every share rising on the BSE.
11:24 am Collaboration for 5G: India is keen to collaborate with other nations on 5G to cement its position as a "leader" in refinement and adoption of this emerging and important technology, Telecom Minister Manoj Sinha said.
Speaking at Convergence India 2018, Sinha termed 5G "one of the most important, emerging" areas and said the country has taken steps to set up a test bed for this technology.
"We are keen to collaborate with other nations that are engaged in this endeavour, so we are a leader not a follower in assessment, refinement and adoption of 5G technology," Sinha said.
He noted that the 5G push will act as a "catalyst" for India's flagship Digital India mission.
11:10 am Buzzing: Shares of ICICI Bank slumped over 3 percent intraday as the bank's senior officials were summoned by the Serious Fraud Investigation Office (SFIO) with regard to the PNB scam.
It is the sixth straight session of fall for the stock and has slumped 12.75 per cent since February 26.
Senior officials from private sector lenders ICICI Bank and Axis Bank appeared before SFIO yesterday with regard to a probe into the Rs 12,636-crore PNB swindle.
Here are the top headlines at 11 am from Moneycontrol News' Sakshi Batra
11:00 am IPOs: The IPO activity in March is expected to be led by companies such as state-owned Hindustan Aeronautics, Bandhan Bank and ICICI Securities, according to a media report quoting at least four people aware of the developments.
These companies together are looking to raise more than Rs 12,000 crore via IPOs, the report said.
10:55 pm Market Outlook: "The selloff by foreign investors (FIIs) that we have witnessed in the recent past is expected to be offset by the liquidity flows into equities from the domestic household savings. We believe that as long as this remains strong, volatility should remain curbed to a large extent," Nitasha Shankar, Senior Vice President and Head of Research at YES Securities (I) Ltd said.
However, given the high expectations from the earnings – as gauged by the higher multiples that the markets are garnering – as well as the many state elections lined up this year; he expects 2018 to be fairly volatile.
"The year will not be anything like 2017, where we saw a run up across the board. A stock specific approach is the way to go," he said.
10:47 am Market Update: Benchmark indices remained under pressure amid volatility, dragged majorly by banks and oil stocks.
The 30-share BSE Sensex was down 115.33 points at 33,201.87 and the 50-share NSE Nifty fell 44.90 points to 10,204.40.
Midcaps continued to underperformed as the Nifty Midcap index falling over half a percent. About three shares declined for every share rising on the BSE.
PSU Bank was the biggest loser among sectoral indices, falling 2 percent amid deepening PNB fraud case.
10:25 am Buzzing: Shares of Gitanjali Gems plunged by another 5 percent as CBI tightened the noose on PNB offenders by arresting the vice president of Gitanjali Group of Companies.
The agency yesterday arrested Vipul Chitalia in the Rs 12,636-crore PNB scam and claimed that he was a "mastermind" who reported directly to diamond trader Mehul Choksi.
This is the 15th straight session of fall for the stock. It has lost as as much as 80 percent since February 14, the day PNB fraud came to light.
10:15 am Rupee Trade: The rupee wiped out opening gains to trade 1 paise lower at 64.97 against the US dollar. It touched an intraday low of 64.99 and high of 64.87 in morning.
Yesterday, the rupee had gained 16 paise to close at 64.96 on steady unwinding of dollars by exporters and corporates.
Foreign portfolio investors (FPIs) bought shares worth Rs 620.08 crore yesterday, as per provisional data released by stock exchanges.
Here are the top headlines at 10 am from Moneycontrol News' Anchal Pathak
10:05 am Market Update: Benchmark indices were off their opening lows amid volatility, due to some recovery in banks stocks.
The 30-share BSE Sensex was down 10.98 points at 33,306.22 and the 50-share NSE Nifty was down 15 points at 10,234.30.
The Nifty Midcap was also off its opening lows, falling 0.3 percent. About two shares declined for every share rising on the BSE.
9:59 am Technical Outlook: Mustafa Nadeem of Epic Research expect any bounce back to be mild and short-lived since any retracement will be utilised by lead players who will further jump and cap upside.
He maintains sell on any rise strategy for lower targets of 10,050 – 9,850.
9:50 am PSU Banks stocks under pressure:
9:41 am Buzzing: Share of Dilip Buildcon, Sadbhav Infrastructure and Ashoka Buildcon rose 3 percent as companies declared as lowest bidder for the projects by National Highways Authority of India (NHAI).
Dilip Buildcon has received letter of award (LoA) from NHAI for a new hybrid annuity project valued at Rs 917 crore in the state of Jharkhand.
Ashoka Buildcon's subsidiary Ashoka Concessions emerged as the lowest bidder for 3 projects in the State of Karnataka for which it had submitted its bid to NHAI. The aggregate quoted bid project cost for 3 projects are Rs 2,991.70 crore.
Sadbhav Infrastructure has been declared as lowest bidder by the NHAI for new hybrid annuity project in the state of Karnataka at bid project cost of Rs 1,008 crore.
9:31 am Asia Update: Asian markets traded mixed, as risk appetite appeared to recover slightly after taking a knock earlier on news that a top Trump economic advisor would be resigning.
The Nikkei 225 fell 0.62 percent while South Korea's Kospi reversed early losses to edge higher by 0.02 percent.
9:21 am Stake Buy: Indian Hotels Company (IHCL) said Tata Sons will be acquiring up to 6.64 percent shares of the company from three promoter entities as part of restructuring the investment portfolio.
Tata Sons will be acquiring shares from Sir Dorabji Tata Trust, Lady Tata Memorial Trust and Sir Ratan Tata Trust, according to a regulatory filing by Indian Hotels Company Ltd to BSE.
While the maximum number of shares up to which acquisitions may be made from Sir Dorabji Tata Trust is up to 50,221,040. It is up to 17,728,200 from Lady Tata Memorial Trust and up to 11,023,220 from Sir Ratan Tata Trust, it added.
The rationale of the proposed transfer is "restructuring of the investment portfolio," the filing said. The shares are proposed to be acquired at or around the prevailing price on date of proposed acquisition that is on or before March 13, 2018, it added.
9:15 am Market Check: Benchmark indices opened lower on Wednesday, tracking weakness in Dow Jones futures that fell 2 percent indicating lower opening on Wall Street.
The 30-share BSE Sensex was down 127.47 points at 33,189.73 and the 50-share NSE Nifty fell 48.30 points to 10,201.
Tata Motors hit fresh 52-week low, falling half a percent.
Nifty Midcap index was down 113 points or 0.59 percent.
Union Bank, Canara Bank, PFC, Allahabad Bank and Karnataka Bank hit fresh 52-week lows.
Ashoka Buildcon, Sadbhav Infrastructure, Dilip Buildcon, TeamLease and Blue Star gained 1-2.5 percent.
Discussion
Rules of Discussion on Live Index
1. This forum is for discussion of financial markets. Please respect others view even if they are contrary to you.
2. Member's comments should lead to value addition in forum discussion.
3. If anyone is found making repetitive Explicit/Abusive/Racial comments, his account shall be banned and old posts will be deleted.