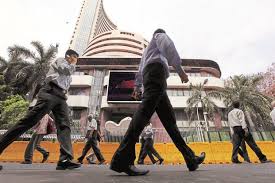 Market Live: Sensex off opening high, Nifty still holds 10,400; Tata Steel top gainer
11:21 am Market Update: Benchmark indices lost more than half of gains in late morning deals due to correction in select banks stocks.
The 30-share BSE Sensex was up 95.30 points at 33,842.08 and the 50-share NSE Nifty rose 35.50 points to 10,394.40.
ICICI Bank and SBI were down half a percent each.
11:10 am Acquisition: JSW Steel shares rallied 3.7 percent intraday after sources told CNBC-TV18 that the company has signed memorandum of understanding to acquire Italy's second largest steelmaker Aferpi.
MoU between JSW & Aferpi guaranteed exclusive talks between the two players. The deal is pegged at Rs 600 crore.
11:02 am PNB Fraud Case: Serious Fraud Investigation Office has summoned ICICI Bank CMD Chanda Kochhar and Axis Bank MD Shikha Sharma in the PNB fraud case, a CNN-News18 report said.
10:45 am Buzzing: Shares of Gitanjali Gems cracked another 5 percent after the Central Bureau of Investigation has detained Vipul Chitalia, Vice President (Banking Operations) of Gitanjali Group, in Mumbai in the Rs 12,700 crore Punjab National Bank fraud case.
The CBI yesterday said the violation of norms for issuance of Letters of Undertaking (LoUs) to benefit billionaire jeweller Nirav Modi and his uncle Mehul Choksi had been going on since 2010.
This is the 14th straight session of fall for the stock. It has lost as as much as 75 percent since February 14, the day the PNB fraud came to light.
10:25 am Rupee Trade: The rupee rose by 11 paise to 64.99 against the US dollar on mild selling of the greenback by exporters and a higher opening in the domestic equity market.
Meanwhile, the dollar gained against most major global currencies as concerns over a global trade war eased after investors saw Trump's proposed tariffs as more of a negotiating tactic than a hard policy proposal.
Investors sentiment was supported by the US non-manufacturing sector growth and improved risk appetite for the dollar, currency traders said.
10:15 am Market Update: Benchmark indices were off their opening highs despite strong global cues.
The 30-share BSE Sensex was up 159.14 points or 0.47 percent at 33,905.92 and the 50-share NSE Nifty gained 47 points or 0.45 percent at 10,405.90.
The Nifty Midcap was also off its opening high, rising half a percent. About 1,470 shares advanced against 579 declining shares on the BSE.
10:10 am Order Win: Share price of Jain Irrigation Systems rose 2.5 percent as the company bagged an order worth Rs 287.66 crore.
The company has bagged order for integrated irrigation solution project in Karnataka. Visvesvaraya Jala Nigam, a division of water resources department of Karnataka, has placed this order on the company through national competitive bidding, company said in release.
The company is expecting to complete the said project in 24 months.
Here are the top headlines at 10 am from Moneycontrol News' Anchal Pathak
10:00 am Acquisition: Share price of JSW Energy added 3 percent on acquisition of JSW Electric Vehicles.
The company has acquired 100 percent stake in JSW Electric Vehicles and post this acquisition, JSW Electric Vehicles has become a wholly owned subsidiary of the company.
The acquisition falls within related party transaction.
The acquired entity has been set up to, manufacture electric motor vehicles, all types of parts, spare parts, engines, appliances and apparatus, equipment, etc.
It is part of diversification strategy of JSW Energy to foray into electric vehicles, energy storage systems and charging infrastructure which will be housed under the acquired entity-JSW Electric Vehicles.
9:53 am Buzzing: Shares of Bharat Wire Ropes gained 4 percent as company to consider fund raising plan on March 9.
The company's board meeting is scheduled to be held on March 9, to consider and approve raising of funds by way of issue of securities.
It will consider fundraising via equity shares and/or american depository receipts (ADR) and/ or global depository receipts (GDR) and/or any other securities convertible into equity shares and/or non-convertible debentures with or without warrants, through further public offer (FPO)/ qualified institutions placement (QIP)/ preferential issue (PI)/ right issue (RI) or through, any other permissible mode or a combination thereof.
9:42 am Market Update: The market continued to trade higher, with the Sensex rising more than 200 points and the Nifty trading above 10,400 levels on positive global cues.
All sectoral indices are in the green, with Metal index rising 2 percent.
9:29 am Asia Update: Asian stocks rallied, tracking gains seen in the US and Europe in the last session as concerns over a potential trade war faded.
Japan's Nikkei 225 jumped 2.28 percent, with the dollar extending gains against the yen as trade-related fears abated.
Hong Kong's Hang Seng, Australia's ASX 200 and South Korea's Kospi gained more than 1 percent.
9:21 am PNB Fraud: Violation of norms for issuance of Letters of Undertaking (LoUs) to benefit billionaire jeweller Nirav Modi and his uncle Mehul Choksi had been going on since 2010, the CBI told a court.
The agency, which secured a 12-day remand of four accused arrested on Sunday, explained the modus operandi involved in the alleged Rs 12,636-crore Punjab National Bank (PNB) fraud before the special CBI court.
An LoU would be issued to one of the firms of Modi and Choksi, and after the money was credited to the applicants' account, a new LoU would be obtained to "adjust" the earlier one, the CBI lawyer said.
This had been going on since 2010, the lawyer said, while seeking remand of four accused including Aniyath Shiv Raman Nair, Director of Gitanjali Group of Companies of Choksi.
9:15 am Market Check: Benchmark indices opened sharply higher on Tuesday after falling for previous four consecutive sessions, aided by positive global cues and short covering.
The 30-share BSE Sensex was up 213.48 points or 0.63 percent at 33,960.26 and the 50-share NSE Nifty gained 65.30 points or 0.63 percent at 10,424.20.
NMDC, Tata Steel, SAIL, JSW Steel, JSPL, Hindalco and Vedanta rebounded with 1-4 percent gains.
About four shares advanced for every share falling on the BSE. Nifty Midcap index was up 166 points or 0.86 percent.
JSW Energy, IDBI Bank, Godrej Agrovet, VST Tillers and Ashok Leyland gained more than 1 percent while PFC and Idea Cellular were under pressure.