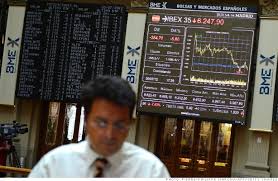 Italy's Election Stalemate Sends the Country's Stocks Into a Tailspin
Italian stocks fell in Monday morning trading after the country's general election delivered the prospect of no stable government.
The Borsa Italiana, Italy's only stock exchange, was down almost 2% early in the morning, though it partially regained some of those losses. The euro also weakened slightly against the dollar.
At the time of writing on Monday morning (around 5.30 a.m. ET), Italy's largest insurer, Generali (arzgy), was down 2.2%, and power firm Enel (esocf) was down 3.1%. Banks were especially hard hit, with Bper Banca down 6.5%, Banco BPM down 5.5%, and the Intesa Sanpaolo (iitsf) banking group down 3%.
Read: Nestle Is Selling Its U.S. Candy Business to Italy's Ferrero
Full results are only expected later Monday, but it's already certain that populist, euro-skeptic and anti-immigrant parties are the day's big winners, scooping up around half the vote collectively. However, none of them appears to have crossed the 40% threshold that gives a party or coalition the ability to govern.
The anti-establishment 5Star Movement, led by 31-year-old Luigi Di Maio, picked up more than 32% of the vote—the largest amassed by any one party. However, the movement has previously ruled out forming a coalition, arguing that doing so would compromise its ideals.
A coalition of the far-right League (18% of the vote so far), Silvio Berlusconi's Forza Italia (14%) and other, smaller right-wing parties still appears to fall short of the threshold, though it's not far off. Meanwhile, a center-left coalition led by former prime minister Matteo Renzi got less than a quarter of the vote.
Read: The 'Disneyland of Pasta' Officially Opens in Italy
Italy is suffering from a stagnant economy, and the country's €2.3 trillion ($ 2.83 trillion) debt is equivalent to 135% of its gross domestic product. Immigration has been a very hot topic this year, with Berlusconi promising to deport 600,000 illegal immigrants if his coalition were to get the chance.