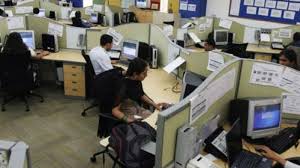 India's services industry contracts in February as inflation hits demand
 Activity in India's service industries contracted in February for the first time since November as rising price pressures led to a decline in new businesses orders, a private survey showed on Monday.
Services activity suffered for most of last year following a ban of high value currency notes in November 2016. The July 1 implementation of a national sales tax 1 was another setback, weakening demand.
The Nikkei/IHS Markit Services Purchasing Managers' Index fell to a six-month low of 47.8 in February, compared with January's 51.7.
The 50-mark separates growth from contraction.
"Both activity and new work declined for the first time since November, with rates of contraction the strongest since August, thereby ending the recent recovery experienced by India's service sector," said Aashna Dodhia, an economist at IHS Markit.
"Anecdotal evidence pointed to weak underlying demand conditions in the service economy."
A sub-index tracking new business sank to a six-month low of 48.0 last month from 51.7 in January as demand continued to be affected by higher prices.
The survey said prices rose at their fastest pace in seven months after a sharper hike in input costs forced services firms to transfer some of the inflationary pressure to customers.
Despite declining slightly in January, fuel prices remained elevated. That and expectations of massive government spending over the coming year are likely to keep the inflation rate above the Reserve Bank of India's medium term target of 4 percent in the near future, increasing the chances of a hike in the central bank's benchmark rate.
In February, manufacturers also faced accelerating inflation, pushing overall input prices to rise at their quickest pace in three and a half years.
The contraction in services activity offset an expansion in manufacturing and caused a composite PMI, which includes both, to plunge to 49.7, its lowest since August, from 52.5 in January.
"However, (services) firms seem to believe that the decline is transitory as they raised their staffing levels at the joint-fastest pace since June 2011, in line with positive projections of activity growth," said Dodhia.
Asia's third-largest economy grew at its sharpest annual rate in more than a year during the quarter to end-December, 7.2 percent, reclaiming its title of the world's fastest growing major economy.