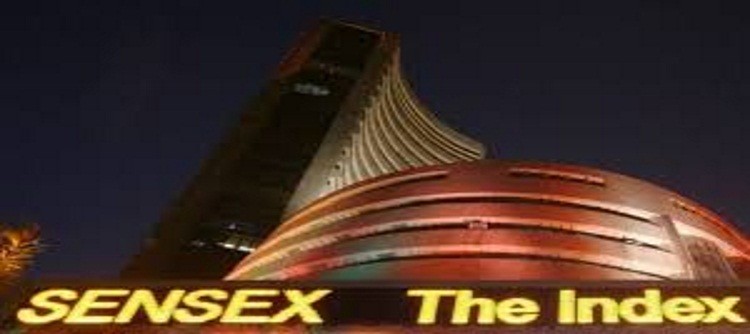 Market Live: Sensex extends gains to over 200 points, Nifty around 10,550; auto surges
11:32 am Kalyan Jewellers IPO: Kalyan Jewellers is looking to file papers for an Initial Public Offering (IPO) next month, according to a Mint report citing sources.
The Kerala-based company is considering raising around Rs 2,500 crore from the issue, a source told Mint.
"The IPO is a mix of primary fundraise that the company will use to fund expansion of its domestic and new overseas markets and a secondary share sale, primarily by private equity investor Warburg Pincus, which will be selling part of its stake in the company", the source added.
11:15 am Market Check: Shares are trading strong on Monday, with the Nifty eyeing 10,600-mark.
The Sensex is up 271.23 points or 0.79% at 34413.38, while the Nifty is up 81.50 points or 0.78% at 10572.50. The market breadth is negative as 1572 shares have advanced, against a decline of 740 shares declined, while 197 shares are unchanged.
IndusInd Bank and Tata Motors are the top gainers, while Dr Reddy's and Sun Pharma were the top losers.
11:00 am Market Outlook: In an interview with CNBC-TV18, Sanjeev Prasad, Managing Director and Co-Head of Kotak Institutional Equities shard his views and outlook on the market. He was speaking from the sidelines of the Kotak Institutional Equities – Chasing Growth Conference.
It looks like earnings growth is coming back fairly strongly, he said.
We are looking at about 25 percent growth for the Nifty-50 index, about 28 percent for entire coverage universe which is slightly above 200 stocks. So looks like there is earnings recovery, he added.
We are also seeing turnaround in infrastructure sector, said Prasad.
10:45 am Buzzing Stock: Shares of A2Z Infra Engineering gained 4.3 percent intraday Monday as the company has entered in to one time settlement with Standard Chartered Bank.
The company approved one time settlement (OTS) with Standard Chartered Bank towards debt settlement of Rs 344.93 crore, for a total consideration of Rs 120 crore.
It has also approved the allotment of shares to Standard Chartered Bank.
10:30 am Market Outlook: The market is likely to consolidate in a narrow range of 10,350-10,600 but there is one sector which is likely to remain in limelight which is the 'metal' sector, Gautam Shah, Associate Director & Technical Analyst at JM Financial said in an interview with CNBC-TV18.
"In the last 1-1/2 years, the metal index has exceeding well. It is trading around 15,300-15,400 on the BSE and our near-term target for the index is close to 17,000 but for 2018 our target is about 21,000 which translates into an upside of 20-25 percent over the next 9-12 months," he said.
The way metal stocks have handled themselves in the last 2-weeks that is quite commendable. It is a place in which investors should allocate 20-30 percent of your portfolio, added Shah.
Commenting on the global markets, Shah is of the view that US markets have made a multi-month top for the US market. If that is the case, Indian markets will be impacted.
10:15 am Pharma stock in focus: Pharmaceutical names have witnessed a weak 2018 so far, with sectoral index down around 5 percent so far. On Monday too, led by cuts in heavyweight names such as Dr Reddy's and Sun Pharmaceuticals, pharma indices were trading lower. Here is a list of other such scrips in focus.
10:10 am New Listing: Market debutant Aster DM Healthcare listed at a discount of around 4 percent on the exchanges on Monday.
The stock listed at Rs 183 on the National Stock Exchange against the upper band of its issue price of Rs 190.
The healthcare services provider's issue was oversubscribed 1.3 times on the last day, as per data available on the NSE website.
10:05 am Market Check: The market has extended its gains from opening tick and is witnessing an upmove of over half a percent.
The Sensex is up 185.56 points or 0.54% at 34327.71, while the Nifty is up 56.00 points or 0.53% at 10547.00. The market breadth is positive as 1432 shares have advanced, against a decline of 537 shares, while 158 shares are unchanged.
Dr Reddy's Labs and Sun Pharma are the top losers on both indices, while gains are seen in auto stocks such as Bajaj Auto and Tata Motors.
9:57 am Sterlite Tech gains: Share price of Sterlite Technologies added more than 10 percent in the early trade on Monday on the back of order win worth Rs 3500 crore.
The company has been awarded Rs 3500 crore advance purchase order to design, build and manage the Indian Navy's communications network.
This will give the Indian Navy digital defence supremacy at par with the best naval forces globally.
9:42 am Simbhaoli Sugars, OBC plunger 9-20%: Shares of Oriental Bank of Commerce and Simbhaoli Sugars lost 9-20 percent intraday on Monday as investors turned cautious post developments of a likely fraud involving the sugar firm.
The Central Bureau of Investigation (CBI) said on Sunday it had filed a fraud case against executives of Simbhaoli Sugar for causing alleged losses of Rs 1.09 billion to state-run Oriental Bank of Commerce, reports Reuters. The bank alleged that the sugar refiner "dishonestly and fraudulently diverted" a Rs 1.48-billion-loan sanctioned in 2011 for financing cane farmers for private use, a statement issued by CBI said.
This is the second case in three days registered by the CBI upon complaints from the Oriental Bank of Commerce. The police has registered a case against several top officials of Simbhaoli Sugar, including its chairman and managing director, chief executive and chief financial officer, some unknown bank officials, and other private persons
9:30 am Buzzing Stock: Shares of Dr Reddy's Laboratories slipped 4 percent in early trade on Monday after the USFDA maintained OAI status for the company's Srikakulam plant.
The company received the establishment inspection report (EIR) from the US Food and Drug Administration for its API manufacturing plant in Srikakulam, Andhra Pradesh.
"FDA has asked us for more details. We are providing those details and continuing to engage with FDA for resolution of pending issues," company said in press release.
9:15 am Market Opens: Equity benchmarks began the week on a positive note, tracking positive global cues.
The Sensex is up 109.15 points or 0.32% at 34251.30, while the Nifty is up 33.30 points or 0.32% at 10524.30. The market breadth is positive as 510 shares advanced, against a decline of 123 shares, while 102 shares are unchanged.
Nifty Pharma is likely to be witnessing some profit booking after days of upmove last week. All other sectoral indices are trading in the green, with financials and auto leading the pack.
Dr Reddy's and Sun Pharma are the top losers on both indices, while Tata Steel, Adani Ports and Vedanta have gained the most.
The Indian rupee opened higher by 8 paise at 64.65 per dollar on Monday versus 64.73 Friday.
Pramit Brahmbhatt of Veracity said, "The rupee will see marginal positive impact in today's session on back of positive cues from the domestic equity market."
"We expect the USD-INR pair to trade in a range of 64.50-65," he added.
Asian markets rose early on Monday, tracking gains seen on Wall Street as US bond yields receded from recent four-year highs in the last session.
Japan's Nikkei 225 soared 292.69 points, or 1.34 percent, with technology stocks, financials and automakers higher on the day. Among index heavyweights, SoftBank Group jumped 1.79 percent and Fast Retailing rose 1.34 percent.
Elsewhere, South Korea's benchmark Kospi added 0.42 percent while the junior Kosdaq saw more significant gains, climbing 1.05 percent in early trade.