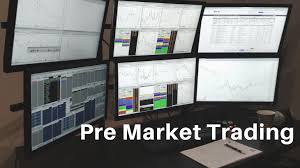 Premarket: 7 things to know before the bell
1. Wild stocks: It's been a week of absolute shock and awe on global markets. What's next?
U.S. stock futures indicate that markets are poised to rebound Friday following a brutal trading session that saw the Dow lose over 1,000 points.
The Dow, S&P 500 and Nasdaq have lost between 8% to 9% over the past five trading days, erasing all the gains made in 2018.
Investor concerns about inflation have contributed to the volatility.
The market turmoil follows a prolonged period of booming stock prices with virtually no sharp declines. Market analysts had warned that a pullback was overdue.
2. Global stock markets: After turmoil in the U.S. and Asia, stock markets in Europe managed to find steadier footing.
European markets posted only modest losses in early trading. London's FTSE 100 and Germany's DAX were down about 0.4%.
Things were a lot uglier in Asia, where stocks dropped roughly 2% in Tokyo, 3% in Hong Kong and 4% in Shanghai.
Before the Bell newsletter: Key market news. In your inbox. Subscribe now!
3. Another government shutdown: The U.S. government has shut down for the second time in 2018.
It could be a short one: The Senate approved a two-year budget deal in the early hours of Friday morning that would re-open the federal government. Now the House of Representatives will have to vote.
The massive budget deal and government funding package is expected to pass by Friday, but congressional negotiators were scrambling all day Thursday to lock in enough votes in the House.
4. Stock market movers — Nvidia, Expedia: Two of the biggest movers in the U.S. could be Nvidia (NVDA) and Expedia (EXPE).
Shares in Nvidia are set to surge by about 9% after the company reported better-than-expected earnings on Thursday afternoon.
Shares in Expedia were poised to fall by 19% after the company's earnings missed expectations.
5. Earnings: It's a light day for earnings. PG&E (PCG) and Moody's (MCO) are the two key firms reporting results before the opening bell.
6. Walmart looks east?: Walmart (WMT) could be looking to invest in India's biggest online retailer, Flipkart.
Bloomberg and other news outlets have reported the U.S. retailer is considering investing billions for a minority stake in the company.
Flipkart said it would "not comment on rumors or speculations." Walmart did not immediately respond to a request for comment.
Download CNN MoneyStream for up-to-the-minute market data and news
7. Coming this week:
Friday — PyeongChang 2018 Winter Olympics begins; Apple's HomePod goes on sale