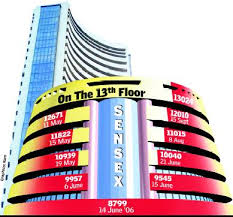 Market Live: Sensex on strong footing, up over 400 pts; Bharat Forge, Cadila zoom
The benchmark BSE Sensex gained momentum in afternoon trade, rallying over 450 points on continued buying by domestic funds and recovery in the rupee amid higher Asian markets.
On the other hand, Brent crude futures tumbled to a six-week low of USD 65.16 per barrel. A fall in crude prices is seen as positive for Indian economy, which imports most of its oil requirements.
The 30-share barometer stayed in the green through the the session on all-round buying. It was trading at 34,543.80 by surging 461.09 points, or 1.35 percent.
The broader NSE Nifty also soared 134.70 points, or 1.29 percent, to quote at 10,611.40.
Brokers said buying by domestic institutional investors (DIIs) and a mixed trend at other Asian bourses improved the market sentiment.
The broader markets also saw strong buying with BSE small-cap and mid-cap indices rising up to 2.33 percent.
The gains were broad-based with most of the sectoral indices on the BSE trading in the green. Realty, IT, Banking, Auto and pharma stocks led the gains up to 3 percent.
1:15 pm Bond Auction: Leading stock exchange BSE will auction investment limits, enabling foreign investors to purchase corporate bond securities worth over Rs 7,000 crore tomorrow.
The auction will be conducted on BSE's ebidxchange platform from 3:30 pm to 5:30 pm, after the close of market hours, the exchange said in a circular issued today.
The debt auction quota gives overseas investors the right to invest in the debt up to the limit purchased.
1:05 pm Lawsuit: US unit filed patent lawsuits against Dr Reddy's Labs, Actavis, Par, Alvogen and Teva for infringement of United States Patent.
Patent is relating to their respective proposed generic versions of company's SUBOXONE (Buprenorphine and Naloxone) sublingual film product.
1:02 pm Refining Capacity: India's annual refining capacity would rise by 77 percent to 439 million tonnes, equivalent to about 8.8 million barrels per day (bpd) by 2030, a government report said, listing expansion plans of various companies.
Here are the top headlines at 1 pm from Moneycontrol News' Sakshi Batra
12:51 pm International Results: ABB reported weaker-than-expected fourth-quarter earnings as the engineering group aimed to benefit from its overhaul in what it called improving markets this year.
The maker of power transmission equipment and industrial robots said net profit fell to USD 393 million during the three months ended December 31, missing the average estimate of USD 424 million of analysts in a Reuters poll.
The figures were hit by a fourth-quarter charge of USD 76 million from restructuring its business. Revenues rose 3 percent to USD 9.28 billion, short of the poll estimate of USD 9.5 billion, while orders rose to a weaker-than-expected USD 8.48 billion.
12:38 pm Market Update: Market is on a strong footing as broadbased buying pushed the Sensex 400 points higher.
The Nifty Midcap index extended gains to 1.5 percent on strong market breadth while the Nifty50 is hovering around 10,600 levels.
Rate sensitive like Banks, Realty and Auto, and defensives like technology and pharma stocks continued to rally.
12:25 pm Acquisition: Auto components exporter Bharat Forge announced strategic investment of up to Rs 30 crore for eventual stake of 45 percent in an electric vehicle startup, Tork Motorcycles.
"The investment in Tork is a part of its overall E-Mobility powertrain development and will enable Bharat Forge to develop components / sub systems to address the huge potential in the Indian personal mobility space driven by regulatory push through various initiatives and the increasing economic viability of electric vehicles," Amit Kalyani, Executive Director said.
12:15 pm Earnings: Cadila Healthcare has reported healthy growth of 67.7 percent year-on-year in consolidated net profit at Rs 543.3 crore despite significant rise in tax cost, driven by fantastic operational and revenue performance.
Profit for the year-ago period was at Rs 323.9 crore. The growth was also aided by other income which increased 148 percent YoY to Rs 41.1 crore in Q3.
Consolidated revenue from operations shot up 41 percent to Rs 3,259.6 crore for quarter ended December 2017, compared to Rs 2,311.1 crore in corresponding quarter last fiscal.
Operating profit during the quarter surged 99.9 percent to Rs 841.2 crore and margin expanded by 770 basis points to 25.8 percent compared to year-ago.
Earnings beat analyst expectations. Profit was estimated at Rs 510 crore and operating income at Rs 809 crore with margin at 25 percent for the quarter, according to average of estimates of analysts polled by CNBC-TV18.
12:05 pm Oil at 1-month low: Oil prices were close to their lowest levels this year, with soaring US output undermining OPEC's efforts to tighten markets and prop up prices.
Brent crude futures were at USD 65.49 per barrel, down 3 cents, or 0.05 percent, from the previous close.
US West Texas Intermediate (WTI) crude futures were at USD 61.68 a barrel. That was down 11 cents, or 0.18 percent, from their last settlement.
The dips follow bigger falls on Wednesday, when crude touched one-month lows and erased most of 2018's early gains.
11:54 am Earnings: Bharat Forge has reported healthy earnings growth in quarter ended December 2017, driven by strong commercial vehicles business and continued momentum in exports.
Consolidated profit growth of 77.4 percent at Rs 228 crore year-on-year was slightly ahead of CNBC-TV18 poll of Rs 221 crore.
Revenue from operations grew by 47.4 percent to Rs 1,391 crore compared to Rs 944 crore in same quarter last fiscal.
EBITDA (earnings before interest, tax, depreciation and amortisation) growth of 59.8 percent YoY at Rs 416.3 crore and margin expansion of 230 basis points at 29.9 percent in Q3 were largely in line with analyst estimates of Rs 394 crore and 30 percent, respectively.
11:40 am Market Check: Bulls took complete control at Dalal Street as the Sensex rallied 404.77 points or 1.19 percent to 34,487.48 and the 50-share NSE Nifty gained 116.70 points or 1.11 percent at 10,593.40.
The rally was driven by HDFC (up 2.16 percent), Infosys (2.9 percent), HDFC Bank (0.96 percent), Reliance Industries (0.92 percent) and TCS (up 1.7 percent).
The Nifty Midcap index was up 1.5 percent. About five shares advanced for every share falling on the BSE.
11:25 am BoAML on RBI policy: Bank of America Merrill Lynch continues to think that market fears of a rate hike are overdone.
"As we expected, the RBI MPC appears to be looking through the spike in inflation to 5.4 percent in the June quarter that is driven by the base effects of June 2017 quarter's 2.2 percent. We are tracking January CPI inflation at 4.9 percent down from 5.2 percent in December," it said.
It continued to expect the RBI to cut rates by 25bp in August if we see normal rains.
11:10 am Buzzing: Share price of SRF added 6 percent as company is setting up of a BOPET film line in Europe.
The company had approved a capex for setting up of a BOPET film line in a new entity to be incorporated as a wholly owned subsidiary of the company in Europe at a cost of Euro 58 million to be financed by loan and/or internal accruals.
The new capacity is being set up to serve customers in Europe, Russia and other markets.
Here are the top headlines at 11 am from Moneycontrol News' Sakshi Batra
10:58 am Management Interview: IRB Infra posted a mixed bag earnings in the third quarter, margins disappointed but the traffic growth was very good. In the press release the company had said the fourth quarter would be stupendous for them.
Anil Yadav, Group CFO, IRB Infra said the margins were lower in Q3 because in the toll business they had transferred seven assets of build-operate-transfer (BOT) to InvIT. Margins for BOT projects is around 85-88 percent, while in construction business the margins are about 27-29 percent. So when BOT business is transferred, margins get impacted.
He said, the revenues dipped in Q3 compared to same quarter last year but quarter on quarter there was jump in BOT revenues due to new BOT projects that were started in Rajasthan and Haryana. As more and more projects become operational, the margins will come back, he said.
He said the traffic growth has been very robust and the revenues from Rajasthan, Haryana BOT projects have started. From Rajashtan they have been good at around Rs 62 lakh per day.
10:45 am Market Update: Benchmark indices extended gains despite mixed Asian cues. The Sensex surged more than 400 points and the Nifty reclaimed 10,600 levels.
All sectoral indices traded in the green. Nifty Bank, Auto, IT, Pharma and Realty indices gained 1-3 percent.
Midcaps also participated in the rally, with the Nifty Midcap rising over a percent as about five shares advanced for every share falling.
10:30 am Rupee Trade: The rupee depreciated 1 paise to 64.29 against the US dollar in morning due to increased demand for the US currency from importers amid fresh foreign funds outflow.
However, a weak dollar in global markets helped the rupee limit its losses, dealers said.
The rupee opened weak at 64.38 at the interbank forex market against its previous close of 64.28.
The recovery in the rupee was largely due to strong equity markets.
10:20 am Market Update: Benchmark indices rallied further in morning, with the Sensex rising 311.55 points or 0.91 percent to 34,394.26, driven by Infosys (up 3 percent) and HDFC (up 1.7 percent).
The 50-share NSE Nifty gained 88.50 points or 0.84 percent at 10,565.20 while Nifty Midcap rose over a percent.
About 1,810 shares advanced against 394 declining shares on the BSE.
10:16 am Buzzing: Shares of Nila Infrastructures gained more than 11 percent in morning on the back of demerger of its real estate undertaking.
"The Hon'ble NCLT Ahmedabad bench has on February 06, issued directions including direction to hold meeting of equity shareholders, secured creditors and unsecured creditors of the company to approve the scheme of arrangement among Nila Infrastructures and Nila Spaces (formerly known as Parmanariday Superstructure) and their respective shareholders and creditors.
The company's board meeting is scheduled to be held on February 13, to consider and approve the unaudited financial results for the quarter ended on December 31, 2017.
10:02 am Listing: On the BSE, Galaxy Surfactants listed at Rs 1,520, a 2.7 percent higher compared to offer price. It was trading at Rs 1,643.50, up 11.05 percent over issue price and 8.13 percent compared to opening price.
It touched day's high of Rs 1,673.65 on the BSE.
Here are the top headlines at 10 am from Moneycontrol News' Anchal Pathak
10:00 am Buzzing: Shares of Prestige Estates Projects rose 4.3 percent in morning on partnership with HDFC Capital Advisors.
The company entered into strategic partnership with HDFC Capital Advisors for furthering its business in the mid-income / affordable housing sector.
This dedicated real estate platform shall have a capital to the tune of Rs 2500 crore, which shall be a blend of equity and debt.
Irfan Razack, CMD of Prestige group said, "With this partnership, we are poised to grow manifold, and it will help us continue to build on the legacy of trust and efficacy that we are known for."
9:55 am Pre-opening: Galaxy Surfactants shares settled at Rs 1,525 on the NSE, a 3 percent higher compared to issue price of Rs 1,480.
9:44 am Market Update: Benchmark indices extended gains in morning driven by index heavyweights like Infosys, HDFC twins and Reliance Industries.
The 30-share BSE Sensex was up 253.58 points or 0.74 percent at 34,336.29 and the 50-share NSE Nifty rose 71.60 points to 10,548.30.
The broader markets also participated in the rally, with the Nifty Midcap rising 0.77 percent. About four shares advanced for every share falling on the BSE.
9:32 am Technical Outlook: Rohit Singre of Bonanza Portfolio said, "If Nifty manages to hold 10,270 levels, we may expect the index to consolidate. The immediate and strong hurdle for Nifty is placed around 10620, and any close above the same will lead to strong short covering in the index."
On the options front, highest open interest is placed at 10000 PE followed by at 10500 PE so 10,000 will act as a strong support in the month of February and on the higher side 11500 CE has highest open interest followed by 11000 CE.
He expects volatility to extend further and one need to trade with strict stop losses as it is a buy on the dip and sell on rising market for near term.
Currently, the index has strong resistance at 10620. Traders can initiate shorts on every rise with keeping a stop loss above 10620 and immediate support formed near 10270 so these level can be used as buying stop loss on the downside.
9:26 am Buzzing: Gati fell 3 percent after net profit in Q3 slipped 26.7 percent year-on-year to Rs 4.8 crore and operating profit declined 21 percent to Rs 24.08 crore.
Operating profit margin contracted to 5.4 percent from 7.2 percent while revenue grew by 5.6 percent to Rs 448.5 crore versus Rs 424.8 crore YoY.
9:20 am Earnings: Aurobindo Pharma said its fiscal third-quarter profit rose 2.8 percent to Rs 595 crore, helped by higher sales of generic drugs in US and Europe markets.
The company posted a net profit of Rs 579 crore in the same period previous year. Total revenue rose 11.2 percent to Rs 4369.2 crore.
The company took a one-time charge of Rs 66.4 crore for the quarter  due to US deferred tax assets and liabilities based on the new tax law which has resulted in reduction in federal corporate tax from 35 percent to 21 percent.
The EBITDA margin stood at 23.7 percent.
The net profit came in below the estimate of CNBC-TV18 analyst poll estimate of Rs 682 crore, while the revenues stood higher than Rs 4328.4 crore projection.
9:15 am Market Check: Benchmark indices rebounded with mild gains on Thursday after shedding more than 2,000 points in previous seven consecutive sessions.
The 30-share BSE Sensex was up 94.37 points at 34,177.08 and the 50-share NSE Nifty gained 23.30 points at 10,500.
Cipla rallies 5 percent. Sun Pharma lost 2.6 percent post Taro earnings and Aurobindo Pharma was down 1 percent post Q3 earnings.
IOC shed nearly 4 percent as stock goes ex-dividend.
Nifty Midcap was up 0.3 percent on positive breadth.
Torrent Power, Prestige Estates, ICRA and SRF gained 1-4 percent. Gati, Hexaware and Dixon Technologies were down 1-4 percent.
Most Asian indexes climbed after last session's rally stalled late in the trading day, with the Nikkei rising 0.6 percent and South Korea's Kospi up 0.5 percent. However, China's Shanghai Composite was down 1.5 percent.
Gains in the region followed the slightly lower close seen on Wall Street as U.S. bond yields rose.