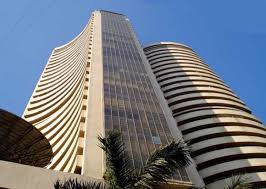 Market Live: Bears tighten grip, Sensex falls 250 pts; PSU Bank index up 1%
 Strong earnings from Avenue Supermart had given wings to the entire retail sector.
Talking about the business outlook for the company and sector Lalit Agarwal, CMD, V-Mart Retail said there is need for organised and good retail and the demand seems have improved post GST.
The same store sales growth for the company in Q3 will be not too great but good because in the same quarter earlier year they had done well, said Agarwal and so they are not expecting any extraordinary growth. However, first two quarter had seen good growth, he added.
He said the industry is facing stiff challenge from online retail, so the brick and mortar players are also being tactical and are creating avenues for sale. So, there could be some pressure on margins but would get offset by volumes, said Agarwal.
11:14 am Data feed: The Securities and Exchange Board of India (SEBI) is considering either directing stock exchanges to stop giving data feed services to entities trading on exchanges abroad or levy higher fees on the traders, according to a report in Mint.
According to the report, two sources say these options are a way of preventing the Indian derivatives business from going offshore.
SEBI did not respond to Mint's request for a comment. BSE and National Stock Exchange (NSE) declined to comment.
11:01 am Poll: Two and three-wheeler maker TVS Motor Company is set to announce its third quarter (October-December) earnings today. Analysts expect good earnings from the company, citing strong volume growth.
The stock, which touched a record high of Rs 794 on January 2 (2018), is in bull market of its own and rallied 35 percent in last 6 months.
Company's profit during the quarter is expected to grow by 31 percent to Rs 174 crore compared to Rs 132.7 crore in year-ago period, according to average of estimates of analysts polled by CNBC-TV18.
Revenue from operations is seen rising 20 percent to Rs 3,589 crore, compared to Rs 2,983.4 crore in corresponding quarter of last fiscal.
10:51 am Asia Update: Asian indexes traded lower, tracking declines seen on Wall Street in the previous session.
Tokyo's benchmark Nikkei 225 index fell 1.33 percent while China's Shanghai Composite was down 0.7 percent.
10:41 am Market Outlook: With the Union Budget 2018 just around the corner, the market has entered a 'wait and watch' mode, believes Ratnesh Kumar of BOBCAPS.
"Clearly there is a big event on the horizon… there is a wait and watch on earnings front as well," Kumar, MD & CEO of BOBCAPS told CNBC-TV18 in an interview. Plus, the Street is slightly wary on long term capital gains (LTCG) tax. This could be counter-productive. But if the taxation does not come through, this will be a huge sigh of relief, he told channel.
Looking at the big picture, Kumar believes going forward growth recovery and repair of balance sheets could be a way to play the markets this year. But investors should be wary of risks from oil, among other things.
10:21 am Buzzing: Shares of MOIL rose more than 4 percent in morning as company to consider buyback of its equity shares.
The meeting of board of directors of the company will be held on February 05 to consider the proposal for buy back of the fully paid-up equity shares of the company.
10:15 am Market Update: Bears tightened their grip on Dalal Street in morning session as benchmark indices extended losses, with the Sensex falling around 250 points due to selling pressure in banking & financials, technology, FMCG and pharma stocks.
However, PSU Bank index bucked the trend, rising over a percent.
The 30-share BSE Sensex was down 247.81 points at 36,035.44 and the 50-share NSE Nifty fell 86.10 points to 11,044.30 while the Nifty Midcap index shed 0.8 percent.
About four shares declined for every share rising on the BSE.
Here are the top headlines at 10 am from Moneycontrol News' Anchal Pathak
10:01 am Listing: Shares of market debutant, Amber Enterprises listed at Rs 1,175, a gain of 37 percent to the issue price of Rs 859 on the National Stock Exchange.
The stock gained around Rs 316 in the opening tick, making it a gain of 36.79 percent.
The appliance maker had a very successful initial public offering (IPO), registering a subscription of 165 times. It had sought to raise Rs 600 crore through the issue, which opened on January 17 with a price band of Rs 855-859 apiece.
The air conditioner manufacturer's IPO received bids for 81.47 crore shares against an issue size of 49 .27 lakh, as per data available with the NSE website.
9:57 am Poll: Indian Oil Corporation (IOC) will announce its December quarter earnings later today. Analysts expect refining business to be offset by poor marketing performance and GST to continue to weigh on downstream companies.
IOC is likely to report better results than other oil marketing companies on the back of higher refining profits.
Standalone profit after tax for the quarter gone by is expected to grow 41 percent to Rs 5,222 crore, from Rs 3,696 crore in previous quarter, according to average of estimates of analysts polled by CNBC-TV18.
Revenue from operations may grow 31 percent to Rs 1,18,419.4 crore in Q3FY18, compared to Rs 90,566.7 crore in Q2.
9:52 am Pre-Opening: Amber Enterprises India share price settled at Rs 1,175 in pre-opening trade on the National Stock Exchange, up 36.79 percent over issue price of Rs 859 per share.
9:50 am Market Update: Benchmark indices extended losses in morning, with the Sensex falling 181.15 points to 36,102.10 and the Nifty declining 73.10 points to 11,057.30.
About three shares declined for every share rising on the BSE.
9:45 am Unitech in Action: Sources told CNBC-TV18 that the government has withdrawn its takeover plea of Unitech from National Company Law Tribunal (NCLT) and will no longer pursue Unitech takeover bid in NCLT.
9:38 am Rupee Trade: The rupee weakened by 7 paise to trade at 63.66 against the US dollar in morning at the interbank foreign exchange today amid the dollar's gains in global markets.
Forex dealers said increased month-end demand from banks and importers and a weak opening in the domestic equity markets weighed on the domestic unit.
Yesterday, the rupee had ended lower by 3 paise at 63.58, halting its three-day rally even as the Economic Survey printed a rosy picture of India's macroeconomic outlook.
9:28 am Results: Laurus Labs posted 7.3 percent rise in net profit to Rs 35 crore in the third quarter ended December on account of lower offtake of hepatitis-C active pharmaceutical ingredients. The stock fell 5 percent.
Total revenues of the company dropped 6.5 percent to Rs 489 crore during the quarter.
The company's EBITDA margins stood at 20.3 percent. On a sequential basis, the net profit was down 29 percent and revenues were up 10 percent.
9:21 am Earnings Expectations: FMCG company Godrej Consumer Products' Q3 consolidated profit is seen rising 17.5 percent year-on-year to Rs 413.2 crore from Rs 351.8 crore.
Revenue from operations may grow by 10.5 percent to Rs 2,643.3 crore in quarter gone by, compared to Rs 2,391.6 crore in year-ago period, according to average of estimates of analysts polled by CNBC-TV18.
Operating profit is expected to increase 13.7 percent year-on-year to Rs 587.5 crore from Rs 516.8 crore and margin may expand 60 basis points to 22.2 percent from 21.6 percent.
9:15 am Market Check: Benchmark indices reversed some previous day's gains on Tuesday, driven by profit booking in technology, select private banks and index heavyweights ITC & Reliance Industries.
The 30-share BSE Sensex was down 82.24 points at 36,201.01 and the 50-share NSE Nifty fell 40.20 points to 11,090.20.
TCS, ICICI Bank, ITC, Reliance Industries, HDFC Bank, Infosys, L&T and Vedanta were early losers whereas Bajaj Auto, Hero Motocorp, Indiabulls Housing, GAIL, BPCL, NTPC and HPCL were gainers.
Ahead of earnings later today, TVS Motor Company and IOC gained half a percent while Godrej Consumer Products lost 0.6 percent.
Nifty Midcap lost another half a percent, in addition to 0.85 percent loss in previous session.
Wockhardt, KPIT Technologies, Emami and Laurus Labs declined 1-4 percent while MOIL, Ester Industries and Mahindra Logistics were down 3-10 percent.
India Union Budget 2018: What does Finance Minister Arun Jaitley have up his sleeve? Click here for top and latest Budget 2018 news, views and analyses.