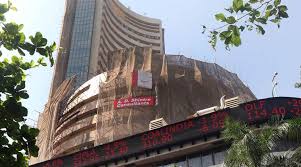 Market Live: Sensex rises over 100 pts; Nifty IT index leads with 1% gain
12:10 pm Earnings Estimates: FMCG major Hindustan Unilever is expected to announce a great set of results today due to demonetisation base, GST restocking, nation-wide launch of Ayush and international parent's cost cutting focus.
Profit after tax is seen rising 11.4 percent year-on-year to Rs 1,156 crore while adjusted profit may rise 25.7 percent, according to average of estimates of analysts polled by CNBC-TV18.
Revenue during the quarter is expected to increase 9.8 percent to Rs 9,136 crore from Rs 8,318 crore.
Operating profit is seen rising 24 percent year-on-year to Rs 1,684 crore and margin may expand 210 basis points to 18.4 percent for quarter ended December 2017, driven by focus on cost reduction, increased premium products and spike in crude oil to impact with a lag.
Here are the top headlines at 12 pm from Moneycontrol News' Anchal Pathak
11:56 am Buzzing: Shares of ICICI Lombard General Insurance Company added more than 7 percent intraday as global broking firm CLSA has maintained buy rating on the stock with increased target price at Rs 970 (from Rs 820 per share).
The competitive intensity & pricing environment are improving and also the regulations are supportive, said CLSA.
The new third-party motor law may be passed in upcoming Budget session, which will be significant positive for the company, it added.
The firm expect earnings to grow at a CAGR of 24 percent over FY17-20 led by healthy growth in premiums.
11:45 am Auction of exploration blocks: India will tomorrow put on auction 55 exploration blocks in the first bid round in eight years that will offer a record area for prospecting of oil and gas, the head of country's upstream regulator said.
This will be the first auction under the new Hydrocarbon Exploration and Licensing Policy (HELP) that allows companies to carve out blocks of their choice with a view to bringing about 2.8 million square kilometres of unexplored area in the country under exploration.
11:30 am Results Today: Hindustan Unilever, Adani Power, Adani Transmission, Bharti Infratel, CSL Finance, DCB Bank, Gloster, Jubilant Life Sciences, Jyothy Laboratories, MindTree, Sterlite Technologies, Tata Sponge Iron, Thirumalai Chemicals, Zee Entertainment Enterprises and SREI Infra will announce their December quarter earnings today.
11:20 am Drug plant approval: J B Chemicals & Pharmaceuticals
today said the Medicines Authority of Malta has granted European GMP approval to its manufacturing facilities located at Panoli, in Gujarat.
"J B Chemicals & Pharmaceuticals is pleased to announce receipt of European GMP approval for its formulation  facilities at Panoli, Gujarat from Medicines Authority of Malta," J B Chemicals & Pharmaceuticals said in a BSE filing.
The company said this approval is valid in entire European Union.
11:05 am Market Update: Benchmark indices extended gains, with the Sensex rising 139.33 points to 34,910.38 and the Nifty climbing 33 points to 10,733.50.
The broader markets recovered from day's low to trade mildly lower. About two shares declined for every share rising on the BSE.
The Nifty IT was the biggest gainer among sectoral indices, up over a percent.
Here are the top headlines at 11 am from Moneycontrol News' Sakshi Batra
11:01 am Crude Oil Update: Crude oil futures slipped 0.39 percent to Rs 4,070 per barrel today, in line with a weak trend in Asian markets, as traders cut exposure.
Crude for delivery in January was trading lower by Rs 16, or 0.39 percent, at Rs 4,070 per barrel, with a business volume of 2,958 lots at the Multi Commodity Exchange (MCX).
Also, oil prices for delivery in February moved down Rs 15, or 0.37 percent, to trade at Rs 4,075 per barrel, with a business volume of 424 lots.
Analysts said the fall in prices is mostly in step with a weak trend overseas as expectations of falling US stockpiles were overshadowed by worries that Russia is considering ending its role in an output freeze with OPEC.
10:50 am Buzzing: Shares of Gayatri Projects gained 1.5 percent intradayon orders win worth Rs 923 crore.
The company bagged two new orders worth Rs 529 crore and 394 crore from National Highway Authority of India (NHAI).
The projects will be executed on an EPC basis in line with the management's decision to follow an asset-light model, and will further reinforce Gayatri's position as one of India's top highway builders.
10:40 am Tie-Up: Ashok Leyland, flagship company of the Hinduja Group, has signed long term arrangements for its EV commercial vehicles with Phinergy of Israel.
"With the intention of providing varying energy management solutions to the customers, Ashok Leyland and Phinergy will work towards the adaptation of unique, competitive and sustainable solutions for high-energy applications in the commercial vehicles space," the company said.
Here are the top headlines at 10:30 am from Moneycontrol News' Anchal Pathak
10:20 am Market Update: Benchmark indices extended gains in morning, with the Sensex rising 102.33 points to 34,873.38 and the Nifty trading 22.70 points higher at 10,723.20.
The broader markets recovered from day's lows but still trading lower. The Nifty Midcap was down half a percent as about three shares declined for every share rising.
10:13 am Rupee trade: The rupee recovered sharply in morning after the government reduced its requirement of additional borrowing.
It strengthened by 10 paise to 63.92 against the US dollar in morning.
Yesterday, the rupee had lost 55 paise or nearly 1 percent — its biggest single-day crash in eight months — to end at a fresh two-week low of 64.04 against the US dollar, hit by a double whammy of rising global crude prices and worsening trade deficit.
10:00 am Buzzing: Gravita India shares rallied more than 3 percent in morning after bagging order from the European Schneider Group company.
The recycling company has received orders worth Rs 250 crore from Luminous Power Technologies Private Limited.
"This order will help company to strengthen its topline and bottomline in coming FY19 and the said order will be executed during 2018," the company said.
Luminous Power Technologies Private Limited is a part of European Schneider Group.
9:52 am Market Update: Benchmark indices recovered from day's low to trade in a tight range on the higher side. The rupee also rebounded sharply following reduction in government borrowing.
The 30-share BSE Sensex was up 53.93 points at 34,824.98 and the 50-share NSE Nifty rose 5.30 points to 10,705.80.
9:45 am Govt Borrowing: Government has reassessed additional borrowing requirements taking note of revenue receipts and expenditure pattern. Requirement of additional borrowing being reduced from Rs 50,000 crore as notified earlier to Rs 20,000 crore.
"The move is a big positive surprise. We were mindful of the indirect tax collection falling short of expectations. In that context, this is a big surprise. It also means that a shortfall in indirect taxes is being made up (for). All in all, this is a positive surprise, which is getting reflected in the market," Manishi Raychaudhuri, Asian Equity Strategist, Equity Cash Asia Pacific, BNP Paribas told CNBC-TV18 in an interview.
9:40 am Buzzing: Shares of Multi Commodity Exchange of India (MCX India) slipped further today, hitting 52-week low of Rs 845.70 on the back of poor December quarter numbers.
The company's Q3 (Oct-Dec) net profit was down 45 percent to Rs 18.7 crore against net profit of Rs 34.04 crore in the same quarter last year. The consolidated revenue declined 11.1 percent to Rs 60.9 crore from Rs 68.6 crore in Q3FY17.
Operating profit (EBITDA) was down 35.30 percent to Rs 29.07 crore and EBITDA margin was at 37.99 percent.
9:36 am Acquisition: Ipca Laboratories shares rallied nearly 4 percent in morning on acquisition of US-based pharmaceutical company.
"….announce the acquisition of 100 percent share capital of Pisgah Labs Inc, a North Carolina Corporation, USA by subsidiaries Ipca Pharmaceutical Inc, USA and Onyx Scientific, UK," the company said in its filing.
Ipca has acquired Pisgah for USD 9.65 million free of debt.
9:28 am IPO opens: Amber Enterprises, which raised Rs 179 crore from anchor investors yesterday, has opened its initial public offering for subscription.
Among the anchor investors are Abu Dhabi Investment Authority – Behave, Blackrock India Equities Mauritius, Goldman Sachs India and Kuwait Investment Authority Fund 225.
The Gurugram-based Amber Enterprises manufactures air- conditioners. Besides, it makes refrigerator components, water purifiers and washing machines.
The public issue will close on January 19. The price band has been fixed at Rs 855-859 per share.
The IPO is aiming to raise Rs 600 crore. This includes fresh issue of shares worth up to Rs 475 crore and sale of scrips to the tune of Rs 125 crore by promoters Jasbir Singh and Daljit Singh.
9:21 am Order Win: India's largest IT services firm Tata Consultancy Services (TCS) said it has signed an over GBP 500 million (USD 690 million) deal with M&G Prudential, the UK and European savings and investments business of Prudential plc.
Under the contract, TCS will digitally transform M&G Prudential's business and deliver enhanced service for its UK savings and retirement customers, TCS said in a statement.
"The value of this agreement exceeds GBP 500 million (USD 690 million) over 10 years and covers the support of over 4 million customer policies," it added.
TCS has over the last few weeks announced a slew of large client wins including American insurer Transamerica (over USD 2 billion), television rating measurement firm Nielsen and British retailer Marks & Spencer.
9:15 am Market Check: Benchmark indices opened mildly higher on Wednesday, with the Nifty reclaiming 10,700 level, driven by technology stocks.
The 30-share BSE Sensex was up 83.21 points at 34,854.26 and the 50-share NSE Nifty gained 19.80 points at 10,720.30.
GAIL, Sun Pharma, TCS, ICICI Bank, Adani Ports, Infosys, HUL and BPCL were early gainers while IndusInd Bank, Ambuja Cements, Bharti Infratel and Bharti Airtel were early losers.
Uttam Galva, HCC and Agro Tech Foods fell more than 2 percent.
Gati, Symphony, Delta Corp, Dish TV and HDIL gained 1-2 percent.