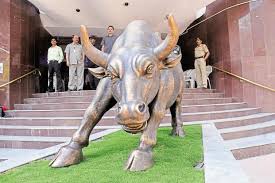 Market Live: Sensex, Nifty, Midcap off record highs; Coal India extends gains
The rupee traded higher by 1 paise at 63.50 against the US dollar in morning on fresh selling of the American currency by exporters and banks amid early gains in stocks.
Forex dealers said persistent inflows of foreign funds and weakness in the dollar against other currencies overseas supported the domestic unit.
Yesterday, the rupee had retreated from its near three-year high and ended lower by 14 paise at 63.51 against the US currency on fresh bouts of dollar demand amid concerns over the sluggish outlook for economic growth.
9:55 am Buzzing: Shares of Aarti Drugs touched 52-week high of Rs 784.80, rising 7 percent in the early trade on approval of buyback of shares.
The board of directors of the company in their meeting held on January 8 has approved the buyback of up to 2,75,000 fully paid up equity shares of face value of Rs 10 each.
The board has fixed the buyback price at Rs 875 per equity share payable in cash for an aggregate amount of upto Rs 24,06,25,000, which is being 5.97 percent of the fully paid-up equity share capital and free reserves as per the standalone audited balance sheet of the company as on September 30, 2017.
9:50 am Market Update: Benchmark as well as broader indices turned volatile after hitting record highs in opening as investors await December quarter earnings season that will be kicked off by TCS, Infosys and IndusInd Bank later this week.
The 30-share BSE Sensex was up 28.45 points at 34,381.24 while the 50-share NSE Nifty fell 8.40 points to 10,615.20.
About 1,157 shares declined against 998 advancing shares on the BSE.
Coal India extended gains to 7 percent in morning on revision in non-coking coal prices.
9:41 am Nalco Outlook: State-owned Nalco announced formulation of a long-term corporate plan, which envisages the aluminium maker to reach a turnover of Rs 31,248 crore and a PAT of Rs 3,010 crore by 2032.
With the release of the corporate plan, Mines Secretary Arun Kumar "appreciated the efforts of Nalco in formulating a plan that provides a strategic way forward for the company up to 2032…The long-term strategy foresees the company to reach a turnover of Rs 31,248 crore and a PAT of Rs 3,010 crore by 2032," the company said in a BSE filing.
The new plan expects the company to reach a turnover of Rs 18,171 crore with a PAT of Rs 1,693 crore by 2024 with the augmentation of the smelting capacity to 1.1 million tonnes and refining capacity to 3.27 million tonnes, it said.
9:29 am Buyback: State-owned power producer SJVN said its board has approved a buyback proposal comprising 5 percent stake for over Rs 801 crore.
As on January 5, 2018, the promoters held 89.73 percent stake in the company, a joint venture of the Government of India and the Government of Himachal Pradesh.
Foreign investors and financial institutions held 3.48 percent and 2.66 percent respectively. Others including public and public bodies corporate held 4.14 percent.
"The Board of Directors of the company in their meeting held on January 8, 2018 has unanimously approved inter-alia the proposal to buyback not exceeding 20,68,31,325 equity shares…" SJVN said in a BSE filing.
9:21 am Buzzing: Share price of Coal India added more than 5 percent in the early trade as the company has revised non-coking coal prices.
The company is it meeting held on January 8 has approved revision of non-coking coal prices effective from January 9.
The revised prices would be applicable to all subsidiaries of Coal India including NEC (North Eastern Coalfields).
Due to the revision, the company will earn an approximately incremental revenue of Rs 1,965 crore for the balance period of financial year 2017-18.
The projected annual incremental revenue would be Rs 6,421 crore.
9:15 am Market Check: Equity benchmarks hit fresh record high again in opening on Tuesday, with the Sensex trading above 34,400 level.
The 30-share BSE Sensex was up 78.32 points at 34,431.11 and the 50-share NSE Nifty gained 12.30 points at 10,635.90. About 1,003 shares advanced against 358 declining shares on the BSE.
Coal India was up 4 percent.
Tata Steel, Axis Bank, Kotak Mahindra Bank, SBI, Sun Pharma, M&M, Wipro and Vedanta were early gainers while HPCL, Indiabulls Housing, Zee Entertainment, Hindalco and Dr Reddy's Labs were losers.
Nifty Midcap gained 0.3 percent.
Aarti Drugs, Goa Carbon, EIH Associated Hotels, Max India, IDFC Bank, Capital First and South Indian Bank gained 1-6 percent while Jaiprakash Associates fell 6 percent.