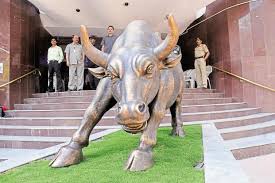 Sensex, Nifty flat ahead of derivatives expiry; metal stocks up
(Reuters) – Indian shares were little changed on Thursday ahead of expiry of derivatives contracts and on lingering concerns over government borrowing exceeding target, but metals stocks such as Vedanta Ltd rose tracking global commodity prices.
India said on Wednesday it would borrow a bigger-than-expected 500 billion rupees ($ 7.79 billion) in the remainder of the fiscal year ending March.
That sent the yield on the benchmark 10-year bond up as much as 11 basis points to a 17-month high, though the reaction in shares was more muted.
Caution also set in ahead of the expiry of futures and options contracts at the end of the session.
"The F&O expiry is one reason why the markets are range-bound, and also it's year-end, so volumes are generally low. I believe the risk of government breaching its fiscal deficit target is almost counted by the markets," said Rakesh Tarway, head of research at Reliance Securities.
The broader NSE index was up 0.06 percent at10,496.60 as of 0635 GMT, while the benchmark BSE index was 0.02 percent higher at 33,919.37.
Metals stocks, however, climbed as copper prices extended gains to hit a near four-year high after a jump in China's imports of the metal boosted expectations of stronger demand from the top consumer.
Vedanta Ltd rose as much as 2.7 percent, and was on track for a third straight session of gains.
Hindalco Industries Ltd, which produces aluminium and copper, surged as much as 4.9 percent to hit a record high.
Pharma stocks were little changed after rising over the last four sessions, with Sun Pharmaceutical Industries Ltd dropping more than 1 percent.