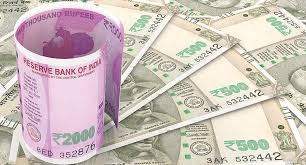 Most Asian FX restrained by cautious sentiment, rupee rallies
Most emerging Asian currencies traded in narrow ranges on Friday, restrained by weak equity markets and a lack of fresh catalysts though the Indian rupee rose on signs the country's ruling party could win a key state election.
The Indian rupee climbed nearly half a percent against the dollar, after exit polls showed Prime Minister Narendra Modi's Bharatiya Janata Party (BJP) will likely win elections in the his home state of Gujarat but caution remains ahead of the actual results. The state election is seen as a litmus test for Modi ahead of a national election in 2019.
"A possible landslide victory by the BJP could signal strength in the coalition, paving the way for PM Modi to continue his economic policies," Maybank said in a note on Friday.
In a sign of wider caution in the region, MSCI's broadest index of Asia-Pacific shares outside Japan was down 0.5 percent on Friday.
The Indonesian rupiah and the Philippine peso were trading flat after their central banks kept their key interest rates unchanged, as expected.
On Thursday, Indonesia's central bank said future policy decisions would depend on inflation and a stable rupiah currency amid rate rises by the U.S. Federal Reserve and other developed economies.
The Philippine central bank dismissed concerns the economy is at risk of overheating from strong domestic demand and investments.
China' yuan was slightly higher against the dollar on the day.
However, most regional currencies were headed for weekly gains.
On Friday, the dollar index was on the defensive after wrangling over a bill to change the U.S. tax code dented confidence. The dollar index was marginally higher at 93.566 on the day.
The passage of the tax reform took a hit after two U.S. Republican senators on Thursday were reported to have sought changes to the proposed legislation to overhaul the U.S. tax code.
The tax bill needs a simple majority to pass in the Senate, in which Republicans hold just 52 of the 100 seats and no Democrats are expected to support it.
Some analysts said the passage of U.S. tax reform would support Asian currencies.
"Tax reform is good for U.S demand, which is good for Asian exports. So dollar may not necessarily be very strong against Asian currencies (next year)," said Nizam Idris, head of strategy, fixed income and currencies at Macquarie Bank.
"But the dollar has a bit more upside against major currencies, through policy differentials."
Profit taking at the year-end also kept regional currencies in check.
Exchange data showed foreigners have sold more than $ 1 billion in Taiwan equities and $ 940 million in South Korean equities this month.
There were net outflows in Indonesia, Philippine and Thailand markets also.