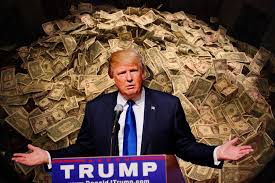 Quest: Is this Trump's economy?
As the U.S. economy picks up speed, with low unemployment and rising consumer confidence, some of you have written to me criticizing that we are not giving enough credit to President Trump for this economic nirvana.
There is a good reason: According to most private economists, this is not yet Donald Trump's economy. The landscape we are currently enjoying is the handiwork of Janet Yellen's Federal Reserve and Barack Obama's White House.
Those who write to me don't agree. Their argument is that companies are bringing back investment, creating new jobs and there is new confidence because of the prospects of lower taxes, massive deregulation and stronger trade protections for American companies. In other words, President Trump has created this environment and he deserves the credit for its benefits.
Sign up for the weekly Quest newsletter in your inbox
I can see the merit of this argument. Unfortunately, most private sector economists, like Professor Ken Rogoff at Harvard, a former chief economist at the IMF, don't agree with it. Time and again, these economists say, yes, Trump has had an effect, but it's too soon to give him full credit.
The debate will continue. I won't take sides. Instead, we will just bring you both arguments, allowing you to make up your own mind. Anytime you want to write to me, my email address is below.
And the Mouse ran away with the Fox
Disney's purchase of the movie studio assets of 21st Century Fox makes Disney a more formidable player in Hollywood.
It gives Disney the rights to Marvel characters such as the X-Men that Fox owned. It will boost the chances of success for the Disney and Fox-backed Hulu and Disney's own streaming service that it plans to launch to fight Netflix.
But Disney may inherit a mess in Europe as Fox tries to buy Sky. The deal may also complicate the legacy of Fox CEO Rupert Murdoch while bolstering the reputation of Disney CEO Bob Iger.
Prophetically enough, Fox's "The Simpsons" predicted a deal in 1998.
— Paul R. La Monica
Fed hikes rates as Yellen set to pass baton
In a move that surprised nobody, the Federal Reserve raised interest rates for the third time this year Wednesday.
It's a sign of a healthy economy, which was further confirmed Thursday after the government reported a drop in the number of people filing for unemployment claims and strong retail sales for November.
Still, outgoing Fed chair Janet Yellen warned that President Trump's tax plan will boost the deficit and could make it tougher for her planned successor Jerome Powell to deal with future crises.
Yellen also urged people to be careful when buying bitcoin, which she referred to as "a highly speculative asset."
— Paul R. La Monica
Bitcoin: Is North Korea making a fortune?
Bitcoin mania continues to heat up.
In just the past week, bitcoin futures launched and regulators warned investors to be wary. Kim Jong Un could be making a fortune on the boom because North Korea has recently been "mining" bitcoin, stealing it and demanding it as ransom payment.
Bitcoin has really taken off in South Korea, where trading has gone mainstream.
One threat to bitcoin — something newer that could replace it. With that in mind, keep an eye on litecoin, the smaller cryptocurrency that has surged by more than bitcoin over the past month.
— Matt Egan
Britain won't let Big Tech off the hook
A top U.K. ethics panel said Wednesday that Facebook, Twitter and Google should take "more responsibility" for illegal content on their platforms. The Committee on Standards in Public Life, which advises Prime Minister Theresa May, said the situation calls for new legislation.
Meanwhile, the head of a parliamentary committee investigating the role of fake news and online misinformation in the U.K. said Wednesday that Facebook needed to look harder for Russian meddling before the Brexit vote. Facebook said a Russian troll farm that spent $ 100,000 in the U.S. had spent only $ 0.97 in Britain.
— Julia Horowitz
Quick takes
The fight for the future of the internet: What the end of net neutrality means
Get the popcorn ready! Saudi Arabia ends 35-year ban on movie theaters
Trade tensions: Canada deals blow to Boeing by scrapping $ 5B fighter jet deal
For nearly half of all American households, the rent is still too damn high
Exxon surrenders on major climate change transparency fight with investors
Attention meat lovers: Meat could be taxed in a bid to stop global warming
What's next
Earnings time: A few big names report quarterly earnings next week. FedEx will release results on Tuesday, along with General Mills on Wednesday and Nike on Thursday.
Bitcoin futures: Last Sunday, bitcoin futures started trading on the CBOE. CME Group will follow suit this coming Monday. It's all part of the bitcoin craze, which shows no signs of abating.