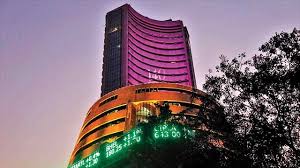 Market Live: Nifty struggles below 10,300 on subdued Asia trade; Bharti Infra up
11:25 am Acquisition: Monnet Ispat share price surged 11 percent intraday Monday after steel giants and private equity firms have submitted bids to acquire the debt laden company.
Sources told CNBC-TV18 that Tata Steel, JSW Steel, Vedanta and Shyam Steel have put in their bids to acquire Monnet Ispat.
Edelweiss ARC, Blackstone, TPG and SSG Capital are also among contenders for acquisition. The last date for submission of bids has been extended till November 27.
Monnet Ispat is one of 12 accounts identified by the Reserve Bank of India for insolvency proceedings under Insolvency and Bankruptcy Code.
11:15 am German Politics: Chancellor Angela Merkel said today her efforts to form a three-way coalition government had failed, thrusting Germany into a political crisis and pushing Europe's largest economy closer to a possible new election.
The pro-business Free Democrats (FDP) unexpectedly pulled out of more than four weeks of negotiations with Merkel's conservative bloc and the ecologist Greens, citing irreconcilable differences.
The euro hit a two-month low against the yen soon after FDP leader Christian Lindner said on Sunday that his party was withdrawing from the talks as the three would-be partners could not find common ground on key issues.
A tired looking Merkel said she would stay on as acting chancellor and would consult with President Frank-Walter Steinmeier on how to move forward, adding that a deal had been within reach.
11:00 am USFDA Nod: Glenmark Pharmaceuticals has received final approval from the US health regulator for generic version of Loestrin tablets used to prevent pregnancy.
"Glenmark Pharmaceuticals USA has been granted final approval by the US Food and Drug Administration (USFDA) for Hailey 24 Fe (Norethindrone Acetate and Ethinyl Estradiol tablets, USP and Ferrous Fumarate tablets), 1 mg/20 mcg, the generic version of Loestrin 1 24 Fe tablets, of Allergan Pharmaceuticals," the company said in a filing.
According to IQVIATM sales data for the 12 months to September 2017, the Loestrin 24 Fe tablets market achieved annual sales of approximately USD 96.7 million, Glenmark said.
10:50 am Market Check: Benchmark indices were mildly lower amid consolidation, tracking subdued trade in Asian markets, and after investors digested Moody's India rating upgrade.
The 30-share BSE Sensex was down 30.71 points at 33,312.09 and the 50-share NSE Nifty declined 15.80 points to 10,267.80.
The broader markets outperformed benchmarks on positive breadth. About 1,359 shares advanced against 857 declining shares on the BSE.
10:44 am Order Win: Home-grown telecom gearmaker Himachal Futuristic Communications (HFCL) today said it has bagged a Rs 128-crore order from Bharat Sanchar Nigam Ltd.
"The company has received the purchase order worth Rs 128 crore approximately from Bharat Sanchar Nigam Ltd for supply of packet microwave radio systems on pan-India basis for BSNL mobile network," HFCL said in a BSE filing.
The company said the equipment purchase order is part of a turnkey project and the balance order for installation and AMC support services will be issued separately by BSNL.
10:32 am Rupee Update: The rupee depreciated by 7 paise to 65.08 against the dollar today after renewed demand for the US currency from importers.
The dollar made headway against the euro after Angela Merkel's attempts to form a new government for Europe's biggest economy collapsed, plunging Germany into a crisis. A subdued start at domestic stock markets cast its shadow, traders said.
On Friday, the rupee had bounced back in style to end at a one-week high of 65.01 after Moody's upgraded India's sovereign credit rating.
10:22 am USFDA Approval: Drug major Cipla has received final approval from the US health regulator for generic version of Dacogen, indicated for treatment of patients with myelodysplastic syndromes.
In a BSE filing today, Cipla said "it has received final approval for its abbreviated new drug application (ANDA) for Decitabine Injection 50 mg single-use sterile vial from the United States Food and Drug Administration (USFDA)".
The approved product is a generic equivalent of Otsuka America Pharmaceutical Inc's Dacogen. It is indicated for treatment of patients with myelodysplastic syndromes (MDS), the company added.
10:12 am Bond Yields: Indian bond yields fell sharply in morning after the central bank unexpectedly cancelled its sale of bonds via open market operation post market hours on Friday, reports Reuters.
The Reserve Bank of India said on Friday it was withdrawing the OMO sale that was scheduled for November 23 due to "recent market developments and based on a fresh review of the current and evolving liquidity conditions".
The benchmark 10-year bond yield was down 12 basis points at 6.92 percent.
10:05 am Acquisition: Eris Lifesciences on Saturday said it has entered into a definitive agreement to buy India branded generics business of Strides Shasun for an aggregate cash consideration of Rs 500 crores.
The transaction is subject to customary closing conditions and parties intend to close the transaction by November 30th, 2017.
Strides' India branded generics business comprises of a portfolio of 130 plus brands in the domains of neurology, psychiatry, nutraceuticals and gastro.
As per the terms of the agreement, Eris will acquire the marketing and distribution rights for the said portfolio of products in India, along with the employees forming part of the business. Strides will retain the global rights to the products.
The acquisition is Eris's fourth—and the largest–in the last 18 months, the company will be among the top ten companies in the central nervous system (CNS) segment.
Here are the top headlines at 10 am from Moneycontrol News' Anchal Pathak
9:54 am Market Outlook: "We continue to believe that Indian markets are in a phase of a secular bull run. Hence, even if there are event-based intermittent corrections in the Indian markets, the long-term trend remains bullish," Prasanth Prabhakaran, Senior President & CEO, YES Securities (India) said in an interview to YES Securites.
These events in the immediate future could be the outcome of the state elections or the US Fed policy review but we firmly believe that it will not reverse the overlying trend of upward asset values.
In the short term, it is essential to look at individual stocks that offer superior value in terms of their valuation even at current market levels instead of looking at the headline indices.
9:44 am Reliance Comm in focus: Moody's Investors Service has withdrawn debt-laden Reliance Communications' corporate family rating, citing a missed scheduled payment related to the company's dollar bond.
"Moody's has today withdrawn Reliance Communications' (RCom) Ca corporate family rating (CFR) and its negative outlook.
At the same time, Moody's has also withdrawn the Ca rating on RCom's senior secured notes," a Moody's statement said.
According to Moody's website, a CFR applies to all affiliates under the management control of an entity to which it is assigned, whereas obligations rated 'Ca' are highly speculative and are likely in, or very near, default with some prospect of recovery in principal and interest.
The rating withdrawal follows a default on interest payment on a foreign bond.
9:35 am Market Update: Benchmark indices gained strength after flat opening, backed by L&T, ITC and select private banks.
The 30-share BSE Sensex was up 85.95 points at 33,428.75 and the 50-share NSE Nifty rose 17.10 points to 10,300.70.
About two shares advanced for every share falling on the BSE.
9:26 am Buzzing: Shares of Biocon gained 5.6 percent in the early trade on the back of EIR received from USFDA.
"…. confirms that the United States Food and Drug Administration (USFDA) has issued an Establishment Inspection Report (EIR) in relation to the cGMP (current good manufacturing practice) inspection of its aseptic drug product facility that was audited between May 25-June 3, 2017."
The FDA has classified the outcome of this inspection as VAI (voluntary action indicated) and the EIR states that the inspection is closed.
9:20 am Order Win: Larsen & Toubro's arm L&T Construction, its heavy civil infrastructure business vertical, has bagged an order worth Rs 8,650 crore from the Mumbai Metropolitan Region Development Authority (MMRDA) for the construction of Mumbai Trans Harbour Link (MTHL), packages 1 and 3.
The project involves construction of a 21.8 km bridge connecting Mumbai mainland with Navi Mumbai. "The contract (package 1), secured in partnership with IHI Corporation, Japan involves construction of an Orthotropic Steel Deck crossing the various obligatory navigation channels," L&T said.
The package 1 involves construction of a multi-level interchange at Sewri and a six-lane marine bridge from Sewri extending 10.38 km into the Mumbai bay.
The package 3, won by L&T on a standalone basis, involves construction of a 3.6 km, six-lane land bridge at Navi Mumbai, it added.
9:15 am Market Check: Equity benchmarks opened flat with a negative bias on Monday, after rallying nearly 600 points in previous two consecutive sessions. Subdued Asia trade also caused some selling pressure. Investors digested Moody's India upgrade and focussed on Gujarat Assembly elections that will take place next month.
The 30-share BSE Sensex was down 27.26 points at 33,315.54 and the 50-share NSE Nifty fell 15 points to 10,268.60.
L&T surged 2 percent after bagging Mumbai Trans Harbour Link project.
Yes Bank, IndusInd Bank, ONGC, Sun Pharma, HDFC Bank, TCS and UPL were early gainers.
Infosys, Coal India, Cipla and Zee Entertainment were early losers.
Biocon, Jai Corp, Reliance Industrial Infra, Glenmark Pharma, Eris Lifesciences, Strides Shasun, Transport Corp, Patel Integrated and Havells gained 1-5 percent.
Cement stocks were under pressure – Shree Cement, UltraTech Cement, JK Lakshmi and Ambuja Cements fell 1-4 percent.