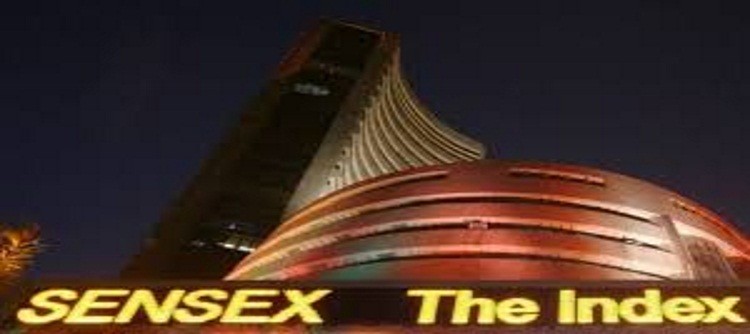 Market Live: Nifty breaks 10,200, Sensex falls 100 pts ; MAS Financial zooms 44%
11:10 am Oil Prices rise: Oil prices rose today, lifted by a fall in US crude inventories and concerns that tensions in the Middle East could disrupt supplies.
Brent crude futures, the international benchmark for oil prices, were at USD 58.22, up 0.59 percent from their last close – and a third above mid-year levels.
US West Texas Intermediate (WTI) crude futures were at USD 52.06 per barrel, up 0.35 percent, and almost a quarter above mid-June levels.
10:59 am Rupee trade: The rupee pared its initial gains to trade lower by 1 paise at 65.03 against the US currency in late morning deals on bouts of dollar buying by banks and exporters.
The rupee opened higher by 7 paise at 64.95 as against yesterday's level of 65.02 at the interbank forex market (Forex) market.
The Indian rupee had recovered by 9 paise to 64.93 on initial selling of dollars by banks.
The rupee had fallen 28 paise yesterday.
10:47 am IPO: Kerala-based Muthoot Microfin, a subsidiary of the gold loan player Muthoot Fincorp, is planning an IPO in 2019.
The company said the IPO will to support expansion of our microfinance business we are preparing ourselves for an IPO. As of Tuesday the company is the fourth largest MFI.
As part of the IPO, the MFI is also planning to divest some equity to a PE player and plans to raise USD50 million, the company said, adding last December it had raised USD20 million from the Chicago-based PE firm Creation Investment.
10:31 am MFs AUM: Mutual funds' assets under management (AUM) grew at a healthy 29.13 percent at Rs 20.40 trillion in September, up from Rs 15.8 trillion a year ago.
On a monthly basis, however, the AUM declined to Rs 20.40 trillion from Rs 20.59 trillion a month ago, which the industry body Amfi attributed to the quarter-end phenomenon.
According to the Amfi data collated by Icra, during the past 19 quarter-end months, AUM has declined on 17 instances.
Total net outflow in September stood at Rs 16,604 crore with the maximum outflow of Rs 50,090 crore witnessed in the income category. Equity (including equity linked savings schemes or ELSS), balanced and liquid/money funds saw inflows to the tune of Rs 18,936 crore, Rs 8,141 crore and Rs 4,833 crore, respectively.
Monthly net inflow in equity funds (including ELSS) grew 406 percent at Rs 18,936 crore.
10:17 am Market Check: Equity benchmarks remained lower in morning, with the Nifty breaching 10,200 level, weighed by banks.
The 30-share BSE Sensex was down 106.08 points at 32,503.08 and the 50-share NSE Nifty was down 39.50 points at 10,195.00.
The broader markets outperformed benchmarks, trading flat on positive breadth. About 1,029 shares advanced against 926 declining shares on the BSE.
10:12 am Market Outlook: SMC Global expects another round of short covering in the expiry week. As per current derivative data, Nifty can move towards 10,300.
The market undertone remained bullish with the support of consistent FIIs buying and short covering. The derivative data indicates bullish scenario to continue.
The Nifty has multiple strong supports at lower levels. Various supports are placed at 10,050 and 10,100, 10,150, and 10,200 spot levels. We are likely to see short covering on every dip.
On the technical front, 10,150-10,190 spot levels are in a strong support zone and the current trend is likely to continue towards 10,300-10,350 in the expiry week.
10:00 am Listing: MAS Financial Services share price started off trade with a whopping premium of 44 percent on the National Stock Exchange.
The stock has opened at Rs 660 against its issue price of Rs 459.
9:55 am Earnings Estimates: UltraTech Cement, which has Pan India presence, is expected to show a 38 percent decline year-on-year in standalone profit at Rs 370 crore but revenue from operations may grow 4 percent to Rs 6,380 crore.
According to average of estimates of analysts polled by CNBC-TV18, operating profit during the quarter is seen falling 2 percent to Rs 1,135 crore and margin may shrink around 100 basis points to 17.8 percent compared with same quarter last fiscal.
UltraTech numbers are not totally comparable due to acquisition of Jaiprakash Group's cement assets.
Analysts expect sales volumes growth of 11 percent at 12.4 million tonnes due to inorganic expansion, but Ultratech volumes are likely to be flattish.
9:50 am Pre-opening trade: MAS Financial Services share price settled at Rs 660 in pre-opening trade on the National Stock Exchange, higher by 43.8 percent over its issue price of Rs 459.
9:35 am Expansion: Textile major Arvind signed a MoU with the Gujarat government to set up a mega apparel park with an investment of Rs 300-crore in Dahegam in Ahmedabad district.
The Memorandum of Understanding (MOU) has been signed days after the state government announced its garments and apparel policy, 2017, the company said in a release here.
The "mega apparel facility" will be a "first-of-its-kind" which will employ more than 10,000 people, it said.
The park is expected to commence commercial production in the fourth quarter of 2018-19 financial year and will produce over 24 million garments once it is fully operational, the company said.
9:25 am Buzzing: Claris Lifesciences share price gained a percent today as the Reserve Bank of India (RBI) has allowed foreign investors to raise their stake in Claris Lifesciences to 49 percent under the portfolio investment scheme (PIS).
"Foreign Institutional Investors (FIIs)/Foreign Portfolios Investors (FPIs) investment limit under Portfolio Investment Scheme in Claris Lifesciences Ltd has increased from 24 percent to 49 percent of its paid up capital," the RBI said in a notification.
Further, the RBI said the investment limit by NRIs has gone up to 24 percent from the existing 10 percent.
9:20 am Listing: Non-banking finance company MAS Financial Services is set to debut on exchanges today. The issue price is fixed at higher end of price band of Rs 456-459 per share.
Analysts expect the stock to list with a premium of Rs 150-200, given the strong subscription to the issue and strong financials of the company.
The Rs 460-crore initial share sale offer had received overwhelming response from investors as it was oversubscribed 128.39 times on last Tuesday.
9:15 am Market Check: Equity benchmarks opened lower on profit booking Wednesday, with the Sensex falling nearly 100 points, dragged by banks after disappointing numbers from Axis Bank.
The 30-share BSE Sensex was down 98.31 points to 32,510.85 and the 50-share NSE Nifty fell 28.10 points to 10,206.40.
The market breadth was balanced as about 497 shares advanced against 490 declining shares on the BSE.
Axis Bank was biggest loser after sharp rise in slippages in Q2. The stock was down 6.5 percent.
ICICI Bank, SBI, Cipla, Yes Bank and Zee Entertainment were early losers while Wipro, Kotak Mahindra Bank, TCS, ITC, Reliance Industries, Power Grid Corp and HCL Tech were early gainers.
The Indian rupee gained 9 paise against the US dollar in early trade. It has opened at 64.93 against the previous day's closing value of 65.02 per dollar.