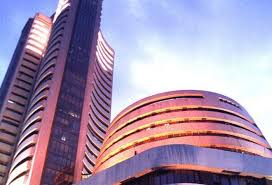 Market Live: Sensex, Nifty maintain morning gains; HPCL, BPCL, IOC rise 2-5%
1:21 pm Earnings Poll: Tata Consultancy Services, the country's largest software services provider, will announce its July-September quarter earnings on October 12 after market hours.
Profit after tax for the quarter is expected to increase 4 percent sequentially to Rs 6,183 crore and revenue may grow 2.6 percent to Rs 30,356 crore, according to average of estimates of analysts polled by CNBC-TV18.
Revenues in dollar terms are likely to register a 3 percent at USD 4,731 million in the quarter ended September 2017, compared with USD 4,591 million in previous quarter.
Analysts expect constant currency revenue growth at 1.5-2 percent as soft BFS (banking and financial services) business in North America and industry wide challenges in the retail could be key headwind.
1:09 pm Economic Council Meet's possible agenda: The Prime Minister's Economic Advisory Council (EAC-PM) will hold its first meeting today, amid a sense of urgency about the state of the economy. The mandate of the council is to analyze all critical issues, economic or otherwise, and advise the PM accordingly.
State of the economy, crisis in the banking sector and export growth may be key things for discussion.
12:58 pm IPO subscription: The initial public offering of Indian Energy Exchange has been subscribed 61 percent, as per data available on the exchange.
The issue received bids for 32.04 lakh equity shares against IPO size of 52.75 lakh shares.
12:54 pm Inflation Poll: India's retail inflation edged up in September, driven by higher salaries of government employees as well as the impact of the Goods and Services Tax (GST), a Reuters poll found, a development that would make further monetary policy easing unlikely.
Consumer inflation is forecast to have risen to 3.60 percent in September from a year ago, above August's 3.36 percent, the poll of 36 economists showed.
The data is due to be released on October 12 at 17:30 hours IST. If the September number matches the poll consensus, inflation would be the highest in six months – yet still below the Reserve Bank of India's mid-term target of 4 percent.
12:45 pm Indraprastha Gas hits record high: Global brokerage house Citi has maintained its buy rating on Indraprastha Gas but hiked price target to Rs 1,720 (from Rs 1,390 per share), implying potential upside of 15 percent.
The stock price touched a fresh record high of Rs 1,542 on the BSE, up nearly 4 percent over previous close.
The research house expects earnings to grow at CAGR of 18 percent over three years. Value of contribution from new cities doubled to Rs 344 per share to factor three new cities, it said.
According to Citi, valuations are expensive, but are not overvalued.
Positive triggers could be higher payouts, new licences, gas inclusion in GST and environment-led policy initiatives, the research house said.
12:40 pm Europe trade: European stocks were mixed in opening, as investors continued to monitor ongoing political uncertainty.
The pan-European Stoxx 600 opened little changed, with sectors and major bourses pointing in opposite directions.
The Spanish government is meeting in the capital Madrid today to shore up its response to the Catalan independence movement. Socialist opposition leader Pedro Sanchez is also set to convene with Prime Minister Mariano Rajoy.
12:36 pm Market Check: Equity benchmarks maintained morning gains, with the Sensex rising 120.03 points at 32,044.44.
The 50-share NSE Nifty rose 40.10 points to 10,057.05, driven by oil & gas, HDFC Group, Bharti Group and private banks stocks.
The BSE Midcap gained 0.25 percent and Smallcap was up 0.5 percent on positive market breadth. About 1,365 shares advanced against 1,109 declining shares on the BSE.
Oil marketing companies – IOC, HPCL and BPCL were among top five gainers on the Nifty50.
12:24 pm Trump meets military advisors: President Donald Trump has
discussed a "range of options" with his top military advisors to respond to North Korea's aggression and prevent it from threatening the US and its allies.
North Korea has fired 22 missiles during 15 tests since February, drawing a sharp reaction from the US and its allies.
North Korea has recently fired two intercontinental ballistic missile (ICBM) across Japan, creating new tension in the region.
Trump yesterday met his top advisors, including Defence Secretary James Mattis and General Joseph Dunford, Chairman of the US Joint Chiefs of Staff, the White House said.
12:14 pm Goa Carbon rebounds: Goa Carbon's July-September quarter profit increased nearly three-fold to Rs 13.8 crore compared with Rs 4.7 crore in year-ago quarter, driven by operational as well as topline growth.
The stock price recovered sharply after strong earnings, up nearly 5 percent to hit a record high of Rs 652. However, it fell 5 percent intraday before the announcement of results.
Revenue from operations during the quarter shot up 67.1 percent to Rs 150.6 crore from Rs 90.1 crore on year-on-year basis, the calcined petroleum coke manufacturer said in its filing.
EBITDA (earnings before interest, tax, depreciation and amortisation) jumped 4 times year-on-year to Rs 25.1 crore and margin expanded by 850 basis points to 16.6 percent in the quarter ended September 2017.
12:02 pm CLSA upgrades Axis: Global brokerage house CLSA has upgraded Axis Bank to buy from outperform and also hiked price target to Rs 620 from Rs 600 per share, citing attractive valuations.
"Valuations are attractive and the stock can be rerated as asset quality normalises," the research house said.
CLSA expects normalisation of stress & retail scale-up to lift earnings. Normalisation of credit costs and bottoming of margins may also aid earnings from second half of FY18.
According to the research house, stabilisation and easing out of new stress loan formation is likely to be from FY19 onwards.
"We see scope for operating efficiencies that will aid earnings, and expect normalisation of asset quality to lift return on equity to mid-teens over FY19-20 from 7 percent in FY17," CLSA said.
11:51 am Acquisition: Drug major Lupin's US subsidiary has acquired Symbiomix Therapeutics for a total cash consideration of USD 150 million (nearly Rs 980 crore).
Lupin had entered into an arrangement to acquire the company earlier this year. The acquisition has been made for a cash consideration of USD 150 million, including USD 50 million upfront payment and other time-based ones, it said in a regulatory filing today.
The acquisition is funded from internal funds.
11:41 am Coal India Wage Hike: Coal India fell around a percent intraday as investors turned wary of its wage hike announcement. Brokerages too said that the hike was higher than anticipated.
The state-owned firm signed a wage agreement with workers' unions for a period of five years which would have an estimated impact of Rs 5,667 crore annually to the miner. The "Memorandum of Agreement for National Coal Wage Agreement-X has been signed on October 10 for a period of five years from July 1, 2016 to June 30, 2021", Coal India said in a filing to BSE stock exchange.
"This agreement will impact 2.98 lakh coal workers and the total estimated average annual impact would be Rs 5,667 crore," the filing said. S Q Zama, the Secretary-General of Indian National Mine Workers Federation told PTI of the five central unions in the coal industry, only three — AITUC, CITU and BMS — signed the wage pact.
11:31 am QIP: State-owned Dena Bank is planning to raise up to Rs 1,800 crore through private placement of shares to institutional investors.
The issue committee of the bank has fixed floor price of Rs 30.73 per share, Dena Bank said in a regulatory filing.
The bank may at its discretion offer a discount of up to 5 percent on the floor price in the qualified institutional placement (QIP), it said.
The QIP will close on October 13.
11:20 am Rupee trade: The rupee erased early gains, falling 1 paise to 65.29 against the United States Dollar.
11:10 am Order Win: Shares of Larsen & Toubro (L&T) rose 1 percent on order win from ONGC worth Rs 1,150 crore.
L&T Hydrocarbon Engineering, a wholly owned subsidiary of L&T, has bagged an offshore contract for the transportation & installation – Daman Development Project from Oil & Natural Gas Corporation (ONGC) valued at approximately Rs 1,150 crore.
The project, part of ONGC's strategy to extract gas from Daman field, is situated in the south western part of Tapti – Daman block in Mumbai offshore.
10:59 am Buzzing: Edelweiss Securities has initiated coverage with a buy rating on cement company Birla Corporation, citing strong earnings growth ahead after capacity expansion.
The research house expects the stock to hit a target price of Rs 1,300, which is 36 percent higher compared with Tuesday's closing price. The stock rallied 2.4 percent intraday Wednesday.
The company has chalked out capacity expansion programme for FY18-H1FY21. Post this expansion, it will be the fifth largest cement manufacturer in India.
Edelweiss expects the company to post revenue CAGR of 19 percent over FY17-19.
10:50 am Stocks at 52-week highs: With just a week left for the Diwali, benchmark indices are slowly moving towards their record highs. The S&P BSE Sensex rose over 150 points but there was plenty of action in individual stocks. Tracking the momentum, as many as 135 stocks hit a fresh 52-weeks high on the BSE.
Stocks which surged to a fresh 52-week high on the BSE include names like 63 Moons, Andhra Petrochemicals, APL Apollo Tubes, Bharat Financial, Bata India, TVS Motors Company, Bharat Forge, Havells India, Coromandel International etc. among others.
As many as 51 stocks hit a fresh record high on the BSE which include names like Siyaram Silk Mills, IGL, HEG, DMart, Jindal Worldwide Ltd, Tata Chemicals, Goa Carbon, Cochin Shipyard, PSP Projects, GNFC, Lumax Auto Technologies etc. among others.
10:40 am Market Outlook: It's been three months since the Nifty first scaled the 10,000 mark, and JM Financial's Gautam Shah believes market action since has been very confusing.
This kind of a move, amid a positive environment, is discouraging as the Nifty has not made higher highs due to selling pressure. His sense is that the current recovery is a relief rally and a temporary one, and it could end once the Nifty hovers around 10,100 level.
"The short term setup and chart patterns are not encouraging. I would be cautious and negative right now on the market," Shah, Associate Director and Technical Analyst at JM Financial told CNBC-TV18 in an interview.
"But there is clarity on one aspect that this is clearly a battle between liquidity and valuations. At 9700-9800, liquidity support is seen, while around 10,100-odd levels, overseas investors come into play and restrict the upmove," he noted.
10:24 am Management interview: Caustic soda industry is doing very well in India right now, a bit of global effect is also helping, Kaushal Soparkar, MD, Meghmani Organics said in an interview to CNBC-TV18.
He further said that 35 percent of United States' chlor-alkali capacity is impacted by Hurricane Harvey and China is imposing tighter environment control, which has positively impacted India.
Speaking about chlorine, he said smaller segments are increasing the utilisation of chlorine.
Increase in price of chlor-alkali also led by rise in price of coal, he mentioned.
Soparkar expects 35 percent EBITDA margin in caustic soda business. Consolidated margins should be around 18-20 percent, he added.
10:14 am Earnings: Share price of GM Breweries touched 52-week high of Rs 675.95, rising as much as 20 percent in morning on the back of strong numbers for the quarter ended September 2017 (Q2FY18).
The company's Q2 net profit was up 41.1 percent at Rs 15.7 crore versus Rs 11.1 crore, in the same quarter last fiscal.
Total income rose 23.2 percent at Rs 384.8 crore versus Rs 312.4 crore YoY.
The operating profit (EBITDA) was up 46.4 percent at Rs 24.9 crore and EBITDA margin increased by 520 bps at 24.6 percent.
10:04 am Market Check: Equity benchmarks rallied further in morning as the Sensex was up 170.25 points at 32,094.66 and the Nifty gained 48.35 points at 10,065.30.
The market breadth remained strong as about 1,406 shares advanced against 622 declining shares on the BSE.
9:59 am Buzzing: Bharti Infratel, Bharti Airtel and Idea Cellular shares prices rallied 3-4.5 percent on a media report indicated that KKR-led fund is in talks to buy tower business.
"A consortium led by US buyout fund KKR and comprising Canada Pension Plan Investment Board, Abu Dhabi Investment Authority and GIC Singapore is in discussions to acquire Indus Towers, the world's largest wireless infrastructure company, and telecom tower company Bharti Infratel for USD 11 billion," a media report said quoting multiple people in the know.
9:50 am IMF downgrades India: The downgrade in India's growth for the current fiscal by 0.5 percent to 6.7 percent is a "blip" in a much positive long-term picture of its economy, a top official of the International Monetary Fund has said.
The latest IMF report lowered India's growth projection to 6.7 percent in 2017, 0.5 percentage points less than its previous two forecasts and attributed it to demonetisation and introduction of the GST.
"The downgrade for this year's looks like a blip in a much positive longer-term picture," Maurice Obstfeld, Economic Counsellor and Director of Research Department at the International Monetary Fund (IMF) told reporters after the release of its flagship World Economic report.
9:43 am Buyback: Shares of Sreeleathers touched 52-week high of Rs 207.60, gaining 10 percent in morning as it is going to consider the proposal of buyback of shares.
The company's board meeting is scheduled to be held on October 14, to consider, approve and take on record the proposal for buyback of equity shares of the company.
The board will also consider the quantum & mode of buyback, constitution of buyback committee, for the purpose of buyback and other incidental matters thereto.
9:36 am Gas reforms: Oil Minister Dharmendra Pradhan yesterday said India will offer investment opportunities worth USD 300 billion in the hydrocarbon sector over next 10 years so as to keep pace with the country's energy demand.
He also said a group of experts is being set up to advice the government on issues related to energy.
Besides, he added, a Cabinet proposal is being finalised for a gas platform for having market driven prices.
"In the next 10 years, India is offering project scope of USD 300 billion (in hydrocarbon sector) looking into our future demand," Pradhan said in a media interaction at IndiaEnergyForum, organised by CERAWeek.
9:31 am Indian Economy: India's economic momentum has been affected by disruptions from the withdrawal of banknotes and uncertainties around the Goods and Services Tax (GST), the World Bank says in its latest report.
As a result, growth is expected to slow from 8.6 percent in 2015 to 7.0 percent in 2017. Sound policies around balancing public spending with private investment could accelerate growth to 7.3 per cent by 2018, the World Bank said in its South Asia Economic Focus, a biannual economic update.
While sustained growth is expected to translate to continued poverty reduction, more focus could be made to help benefit the informal economy more, said the report released here ahead of the annual meeting of the International Monetary Fund and the World Bank.
9:25 am Buzzing: Shares of PSP Projects touched 52-week high of Rs 463, advancing 12 percent in the early trade on Wednesday on the back of contract win worth Rs 1,575 crore.
The company has received letter of intent from Surat Diamond Bourse for main contract works at Surat Diamond Bourse.
exhi_psp
9:20 am IPO opens: The USD 1.7 billion initial public offering of state-owned General Insurance Corporation of India has opened for subscription on Wednesday, with a price band of Rs 855-912 per share.
The IPO, which constitutes 14.22 percent of post-offer paid-up equity share capital, comprises of fresh issue of 1.72 crore equity shares and an offer for sale of 10.75 crore shares by promoter – President of India.
A discount of Rs 45 on the offer price is being offered to retail individual bidders and eligible employees.
The company is expected to raise Rs 10,661.85-11,372.64 crore (USD 1.6-1.7 billion) at price band of Rs 855-912 per share.
The largest ever public issue by an insurance company will close on October 13, 2017.
GIC intends to utilise net proceeds of the fresh issue towards augmenting the capital base to support growth of business and to maintain current solvency levels; and general corporate purposes.
9:15 am Market Check: Equity benchmarks extended yesterday's gains in opening trade, with the Nifty reclaiming 10,050 level ahead of earnings season that will be kicked off by TCS on Thursday.
The 30-share BSE Sensex was up 96.14 points at 32,020.55 and the 50-share NSE Nifty gained 28.60 points at 10,045.55.
Bharti Infratel, Bharti Airtel, Idea Cellular, GAIL, Petronet LNG, Vedanta, Aurobindo Pharma, NTPC and ONGC were early gainers while Yes Bank and Kotak Mahindra Bank were under pressure.
Nifty Midcap was up 0.6 percent on strong market breadth.
Adani Transmission, Uttam Galva, Lumax, Praj Industries, Mawan Sugars, RCF, National Fertilisers and GSFC gained 2-9 percent while Punj Lloyd fell 2 percent.
The Indian rupee opened higher at 65.22 per dollar against previous close of 65.28.
Asia markets rose today, taking cues from signs of confidence in the US.
Discussion
Rules of Discussion on Live Index
1. This forum is for discussion of financial markets. Please respect others view even if they are contrary to you.
2. Member's comments should lead to value addition in forum discussion.
3. If anyone is found making repetitive Explicit/Abusive/Racial comments, his account shall be banned and old posts will be deleted.