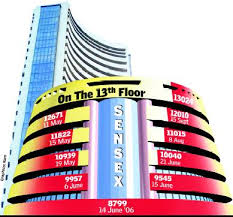 Market Live: Nifty breaks 9900, Sensex slips 200 pts on rising North Korea tensions
12:24 pm Market Check: Equity benchmarks cracked further in afternoon on reports that Pyongyang was making preparations for another missile launch after hydrogen bomb test over the weekend.
The 30-share BSE Sensex was down 319.04 points or 1 percent at 31,573.19 and the 50-share NSE Nifty plunged 108.70 points or 1.09 percent to 9,865.70.
The broader markets also extended losses as the BSE Midcap and Samllcap indices dropped 1.3 percent each. About three shares declined for every share rising on the BSE.
12:15 pm Sugar prices: Sugar prices moved up by 1.38 percent to Rs 3,680 per quintal in futures trade today as speculators raised their bets amid uptick in demand in the spot market.
At the National Commodity and Derivatives Exchange, sugar for delivery in October rose by Rs 50, or 1.38 percent, to Rs 3,680 per quintal, with an open interest of 90 lots.
Analysts said widening of positions by traders due to pick up in demand in the physical market, mainly influenced sugar prices at futures trade.
12:14 pm Volatility Index surged 17.39 percent to 13.71 on the National Stock Exchange.
12:12 pm Yen, gold, bonds gain: The Japanese yen, gold and sovereign bonds all rose today as North Korea's latest nuclear test, and reports Pyongyang was making preparations for another missile launch, provoked the usual knee-jerk shift to safer harbours.
The dollar was marked down to 109.57 yen, having been as low as 109.22 and off a whole yen from late on Friday.
Japan is the world's largest creditor nation and traders tend to assume Japanese investors would repatriate funds at times of crisis, thus pushing up the yen. Many wonder, however, if Japanese assets would really remain in favour if an actual war broke out in Asia.
Japan's Nikkei did not take the news well, losing 0.9 percent. MSCI's broadest index of Asia-Pacific shares outside Japan slipped 0.75 percent with South Korea's main index down 1 percent.
12:07 pm All sectoral indices in red: All sectoral indices were trading lower amid North Korea tensions.
Nifty Bank, Auto, Metal, Pharma and IT indices fell 1 percent each while Nifty Realty index fell more than 2 percent.
12:00 pm Top valuation league: The Aditya Birla group has entered the top valuation league with a market cap of over USD 50 billion post listing of financial services arm Aditya Birla Capital (ABCL), but Tatas remain on top with over USD 132 billion.
The combined market valuation of the Kumar Mangalam Birla-led listed companies stood at Rs 3,42,354.87 crore (USD 53.5 billion) at the end of Friday's trade.
Among various listed companies of the group, UltraTech Cement's valuation stood at Rs 1,10,097.70 crore at the end of Friday's trade while that of Grasim Industries was Rs 76,881.73 crore.
The newly-listed Aditya Birla Capital's market capitalisation was over Rs 55,000 crore, Hindalco (Rs 54,607.09 crore), Idea Cellular (Rs 32,064.91 crore), Aditya Birla Fashion and Retail (Rs 13,155.73 crore) and Aditya Birla Money (Rs 547.71 crore).
11:55 am Market Check: Equity benchmarks extended losses in late morning trade on rising tensions over North Korea that tested hydrogen bomb over the weekend.
The 30-share BSE Sensex was down 230.68 points at 31,661.55 and the 50-share NSE Nifty fell 81.80 points to 9,892.60 on weak market breadth.
About 1,460 shares declined against 865 advancing shares on the BSE.
11:40 am CLSA on Maruti: While maintaining buy rating on Maruti Suzuki with target price of Rs 9,230, CLSA said rising brand acceptance will enhance dominance of the company in passenger vehicle segment.
Nexa is making its brand more acceptable in the higher-priced segment.
It feels an improving long-term outlook justifies a premium valuation for the stock. Maruti is trading at 26x 1-year forward P/E versus an average of 15x.
11:35 am USFDA nod: Ajanta Pharma has received final approval from the US health regulator for Entacapone tablets, used in the treatment of Parkinson's disease.
In a BSE filing, Ajanta Pharma said it has recieved "final approval for Entacapone tablets from US FDA. It is a bioequivalent generic version of Comtan tablets".
The company said it will launch the product shortly in the strength of 200mg tablets.
This new approval is part of portfolio of products that the company has developed for the US market, it added.
11:30 am Buzzing: Shares of Garware Wall Ropes rose 3.75 percent intraday as the company has declared strong numbers in the quarter ended June 2017.
The company's Q1Y18 net profit increased 31 percent at Rs 25.9 crore against Rs 19.81 crore, in the same quarter last year.
Revenue of the company was up 14 percent at Rs 243 crore versus Rs 214 crore.
The margins was up 220 bps at 15.2 percent versus 13 percent.
The company has registered 10.3 percent jump in its net sales at Rs 243.2 crore in Q1FY18 against Rs 217.5 crore.
11:20 am Coal scam: Industrialist Naveen Jindal and others were today granted bail by a special court in a case related to the allocation of a coal block in Madhya Pradesh.
Special Judge Bharat Parashar granted the relief to them on a personal bond of Rs one lakh each and one surety of like amount.
The court has now posted the matter for further hearing on October 31.
Besides Jindal, others who got the relief include Jindal Steel and Power Ltd's (JSPL) former Director Sushil Maroo, former Deputy MD Anand Goyal and CEO Vikrant Gujral.
The accused were summoned for alleged offences of cheating and criminal conspiracy in the allocation of Urtan North coal block in Madhya Pradesh.
In its charge sheet, the CBI has alleged that JSPL misrepresented the equipment purchase orders and misled the Coal Ministry.
Jindal is also facing trial in a case pertaining to the allocation of Amarkonda Murgadangal coal block in Jharkhand.
11:10 am Coal India in focus: Coal India shares rallied nearly 3 percent intraday after August production and offtake data and the appointment of new CMD.
Coal production for the month of August stood at 37.63 million tonnes, which was ahead of company's target of 36.96 million tonnes, the country's largest coal miner said in its filing.
Even the offtake came in higher than its target at 43.75 million tonnes. The company had estimated offtake for August at 43.09 million tonnes.
This was provisional production and offtake performance of Coal India and its subsidiaries for August.
Meanwhile, the ministry of coal has entrusted the additional charge of Chairman and Managing Director, Coal India to Gopal Singh. He has taken over charge with effect from September 1, 2017.
The company its latest board meeting held on August 31, approved the revision in sizing charges and rapid loading silo charges; and revision in additional charges and for supply of slack and steam coal.
"Due to this revision, Coal India will generate approximate additional annual revenue of Rs 527 crore," it said.
11:03 am Most active shares: Reliance Capital, United Spirits, Reliance Industries, Raymond, BPCL and BEML were most active shares on exchanges.
10:58 am Gold update: Gold prices went up by a whopping Rs 241 at Rs 30,064 per 10 grams in futures trade today after speculators raised bets, tracking a firming global trend.
At the Multi Commodity Exchange, gold for delivery in October was trading higher by Rs 241, or 0.81 per cent, to Rs 30,064 per 10 grams, in a business turnover of 804 lots.
The yellow metal for delivery in far-month December too rallied by Rs 225, or 0.75 per cent, to Rs 30,213 per 10 grams in 13 lots.
10:52 am Rupee gains: The rupee firmed up by 2 paise to 64 against the US dollar in morning on selling of the American currency by exporters and banks.
Besides, the dollar's weakness against other currencies overseas on renewed geopolitical tensions after North Korea's latest nuclear test yesterday and below expectations US jobs data for August gave the rupee strength, dealers said.
They said, however, a lower opening of the domestic equity markets, capped the gains.
The 30-share BSE Sensex was down 111.64 points at 31,780.59 and the 50-share NSE Nifty fell 31.60 points to 9,942.80.
10:47 am Order win: "EdCIL, A Government of India mini ratna enterprise, has awarded Kellton Tech the prestigious 'Early Digital Learning Program (EDLP)' project of the Republic of Mauritius," Kellton Tech said.
The project involves supply, commissioning, and maintenance of tablet based learning programs in Mauritius. The order value is estimated to be about Rs 62 crore.
10:43 am Buzzing: AU Small Finance Bank gained more than 1 percent after getting certificate of registration.
The Insurance Regulatory and Development Authority of India, on August 31, has granted certificate of registration to the company, to act as corporate agent (Composite) with registration No. CA0515 under Registration of Corporate Agents – Regulations, 2015.
10:39 am Apex Frozen Update:
10:33 am Market Check: Equity benchmarks extended losses in morning as the Sensex fell more than 100 points, weighed by geopolitical tensions surrounding around North Korea after its latest hydrogen bomb test.
IOC and Adani Ports were top losers among Nifty50 stocks, down 2.6 percent followed by HDFC Bank, HDFC, Infosys, L&T, IndusInd Bank, HUL, Kotak Mahindra Bank and Bharti Airtel while Coal India gained more than 2 percent after dispatch numbers.
The 30-share BSE Sensex was down 124.89 points at 31,767.34 and the 50-share NSE Nifty fell 37.00 points to 9,937.40. About 1,150 shares declined against 965 advancing shares on the BSE.
10:25 am Rajan on demonetisation: Less than a year after he demitted office as the 23rd Governor of the Reserve Bank of India (RBI), Raghuram Rajan said he had cautioned the Centre on the short-term costs of demonetisation outweighing the long-term benefits.
10:10 am Buzzing: Shares of Cadila Healthcare rose 2 percent intraday as it has received final approval from USFDA.
Zydus Cadila has received the final approval from the USFDA to market Mycophenolate Mofetil for injection USP, 500mg/vital.
The drug is indicated for use in combination with other drugs i.e. cyclosporine and corticostroids for the prophylaxis of organ rejection in patients receiving renal, heptic or cardiac transplants.
The drug will be manufactured at the group's formulations manufacturing facility at Moraiya, Ahmedabad.
10:00 am New listing: Apex Frozen Foods listed with 14 percent premium at Rs 202 against issue price of Rs 175.
9:50 am Railway stocks: Railway related stocks gained up to 5 percent intraday after Piyush Goyal became Railway Minister in recent Cabinet reshuffle.
BEML, Titagarh Wagons, Texmaco Rail, Stone India and Kernex Microsystems gained between 1 percent and 5 percent on hopes of major developments in railway sector by Goyal who has done great job in coal sector.
Narendra Modi-led government on Sunday made big changes in Cabinet portfolios ahead of general elections in 2019.
Piyush Goyal, the Minister of State for Power, Coal, New and Renewable Energy and Mines, has been elevated to the cabinet rank. The 53-year-old Bharatiya Janata Party man has been inducted as the Railway Minister, a prestigious portfolio in Narendra Modi's cabinet.
9:45 am GST cess on cars: The government has notified hike in GST cess on a range of cars from mid-size to hybrid variant to luxury ones to a maximum of 25 percent, from earlier 15 percent.
Following assent by President Ram Nath Kovind, the government has notified the Goods and Services Tax (Compensation to States) Amendment Ordinance, 2017.
The Ordinance was last week approved by the Union Cabinet, headed by Prime Minister Narendra Modi, and was sent to the President for his approval.
It has come into force with effect from September 2 — the date of official gazette notification.
With this amendment, taxation on luxury, SUV and other vehicles would be brought at par with that prevailing pre-GST rollout.
9:43 am Promoters offering in Buyback: Infosys promoters, including iconic co-founders N R Narayana Murthy and Nandan Nilekani, have offered to sell as many as 1.77 crore shares — worth up to Rs 2,038 crore — in the company's Rs 13,000 crore buyback offer.
The promoters group — which includes most of the founders and their families — have expressed their intention to be part of the company's first buyback plan in its over three-decade history and have offered to tender a maximum of 1.77 crore shares.
At a buyback price of Rs 1,150 per share, this could mean a windfall of Rs 2,038.94 crore for the promoter group, if all the shares tendered by them are accepted in the buyback offer.
The founders and families — classified as promoters group — held 29.28 crore shares, or 12.75 percent, in Infosys at the end of June 2017.
9:37 am Earnings growth: Bharat Iyer of JP Morgan said the research house believes FY18 consensus earnings growth numbers remain vulnerable to further cuts particularly for consumer discretionary and financials.
Nearly 77 percent of FY18 earnings growth estimated for the broad market is expected to be contributed by these sectors, he added.
"We estimate earnings growth of about 10 percent for FY18 and 15 percent for FY19 for the broad market," he said.
Valuations for the broad market at 18x 12-month forward consensus earnings are above +1 standard deviation expensive from historical averages seen over the last decade, he added.
9:29 am Auto sales: Jaguar Land Rover sold 9,421 units in the US in August, up 1 percent compared with 9,329 units sold in same month last year.
The growth was driven by Land Rover sales that increased 4.8 percent to 6,320 from 6,031 units on year-on-year basis.
Jaguar US sales fell 6 percent to 3,101 from 3,298 units YoY.
9:25 am Asian cues: Safe haven demand drove up gold and the yen while equities in Asia were pressured by elevated tensions on the Korean Peninsula after North Korea said it tested a hydrogen bomb over the weekend.
Japan's Nikkei 225 declined 0.9 percent and the Kospi fell 0.8 percent
9:15 am Market Check: Equity benchmarks opened mildly lower on Monday, tracking weakness in Asian peers following North Korea's nuclear test over the weekend.
The 30-share BSE Sensex was down 56.56 points at 31,835.67 and the 50-share NSE Nifty fell 2.75 points to 9,971.65.
Aurobindo Pharma, Cipla, Hero Motocorp, Coal India and Tata Motors gained up to 1 percent while IOC, Sun Pharma, BPCL, Asian Paints, M&M, Dr Reddy's Labs and L&T were under pressure.
TVS Motor, Ashok Leyland, ITD Cementations, Titagarh Wagons, VA Tech Wabag, M&M Financial, NMDC, Reliance Capital, Cadila Healthcare and Glenmark Pharma gained up to 3 percent.
Ujjivan Financial, Muthoot Finance, REC, Jaiprakash Associates and Aditya Birla Capital fell up to 5 percent.
Discussion
Rules of Discussion on Live Index
1. This forum is for discussion of financial markets. Please respect others view even if they are contrary to you.
2. Member's comments should lead to value addition in forum discussion.
3. If anyone is found making repetitive Explicit/Abusive/Racial comments, his account shall be banned and old posts will be deleted.