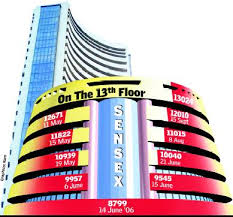 Market Live: Sensex tanks 350 pts, Nifty breaches 9800 on North Korea tensions
2:30 pm Tax penalty: The Income Tax Department has imposed Rs 7,900 crore penalty on the tax demand of the same amount on a unit of billionaire Li Ka-shing's CK Hutchison Holdings Ltd over its decade old sale of mobile phone business in India to Vodafone Group Plc.
In a filing to the Hong Kong stock exchange, the company said its unit Hutchison Telecommunications International Ltd had late last year received a tax demand notice of Rs 7,900 crore and on August 9 received a penalty order of a similar amount.
The CK Hutchison unit continues to dispute the validity of those taxes, it said.
2:20 pm Expert Speak:
Nifty down 125!
Doklam, China, Korea, Harvey, Dera, FII selling, Mumbai floods, NRN, F&O expiry – ignore the noise, focus on #StockPicking
— Porinju Veliyath (@porinju) August 29, 2017
2:00 pm 95 stocks at 52-week low: As much as 95 stocks hit their fresh 52-week lows on the BSE which include stocks like Dynamatic Technologies, GRP Ltd, S H Kelkar, Sri Adhikari, Camlin Fine, Religare Enterprises, ESS DEE Aluminium, United Bank of India, United Breweries etc. among others.
As much as 31 stocks hit their all-time low on the BSE which include names like Abhinav Leasing Finance, Alora Trading Company, Bharati Defence and Infrastructure Ltd, Nitin Fire, RCL Retail, Panafic Industrials Ltd, Magadh Sugar Energy Ltd etc. among others.
1:46 pm Market Check: Indian shares fell further in afternoon trade and were set to snap four consecutive sessions of gains as the firing of a missile over Japan by North Korea rattled investors, while the expiry of local derivatives contracts this week also hit sentiment.
The 30-share BSE Sensex was down 351.20 points or 1.11 percent at 31,399.62, and the 50-share NSE Nifty fell 113.75 points or 1.15 percent to 9,799.05.
About two shares declined for every share rising on the BSE.
1:20 pm Fundraising: HCL Infosystems today said its board has approved a plan to raise up to Rs 500 crore from its existing shareholders.
The company in a filing to BSE said that its board in a meeting held today approved the recommendations of its capital raising committee to go for a rights issue of shares to existing shareholders "as a mode of raising equity capital aggregating up to Rs 500 crore".
Last week, HCL Infosystems said it will distribute Apple products, including the iconic iPhone, in the Indian market.
1:06 pm USFDA nod: Drug firm Zydus Cadila today said it has received establishment inspection report from the US health regulator for its manufacturing facility at Pharma SEZ at Ahmedabad.
The plant had completed the United States Food and Drug Administration (USFDA) audit from January 16-24, 2017, Zydus Cadila said in a statement.
The company's "formulations manufacturing facility at Pharma SEZ, Ahmedabad has received an Establishment Inspection Report (EIR) from the USFDA signifying the successful closure of the audit", it added.
1:00 pm Stocks in action: Power producer NTPC was the biggest loser on both the indexes. The stock declined over 4 percent after the Indian government said it would sell a 5 percent stake in the company with an option to sell 5 percent more through a two-day stock market auction in a potential USD 2.2 billion deal.
Meanwhile, shares in Infosys fell 1 percent on profit-booking after having risen nearly 8 percent in the last four sessions.
The stock had gained more than 3 percent in the previous session, with co-founder Nandan Nilekani returning as chairman after the shock resignation of chief executive Vishal Sikka last week.
12:55 pm Global stocks update: US stock futures and Asian share markets tumbled, while the yen jumped to four-month highs against the dollar after North Korea fired a missile over northern Japan, fuelling worries of fresh tension between Washington and Pyongyang.
In a sharp escalation of tensions on the Korean peninsula, North Korea fired a missile early today that flew over Japan and landed in Pacific waters about 1,180 kilometres (735 miles) off the northern region of Hokkaido.
Asian share markets tumbled, with MSCI's broadest index of Asia-Pacific shares outside Japan down 0.45 percent.
12:49 pm IPO price band: Consumer electronics maker Dixon Technologies (India) will sell shares in a price range of Rs 1,760-1,766 in its initial public offering set to open on September 6, a public notice said on Tuesday.
The IPO will raise about Rs 600 crore (USD 93.9 million) at the upper end of the price range.
The company is selling new shares to raise up to Rs 60 crore, while some of its shareholders are planning to sell just over 3 million shares in the offer that closes on September 8.
Indian investment banks IDFC Bank, IIFL Holdings, Motilal Oswal and Yes Securities are managing the IPO.
12:42 pm Market Check: Equity benchmarks fell further in afternoon trade, after weak Europe opening on North Korea jitters.
The 30-share BSE Sensex was down 263.76 points or 0.83 percent at 31,487.06 and the 50-share NSE Nifty fell 81.55 points or 0.82 percent to 9,831.25.
"Early negativity from Asian markets over North Korea followed through to the domestic market," said Anand James, chief market strategist with Geojit Financial Services.
"Investors are also booking profits after Nifty tested 9,900 levels on Monday while there is some volatility ahead of the expiry," he added.
12:39 pm Europe opening: European markets opened in the red as geopolitical concerns surrounding North Korea raise fresh jitters in trading worldwide.
The pan-European Stoxx 600 was 0.8 percent lower with all sectors trading in negative territory.
Japan's Prime Minister Shinzo Abe told reporters that a ballistic missile that was fired by North Korea had passed over Japan. Abe has since stated that the missile posed a grave threat to the country of Japan, and that he would ask the United Nations to ramp up the pressure on Pyongyang.
Markets worldwide showed signs of nervousness, with investors turning to safe-haven assets.
12:23 pm Gold at 9-1/2 month high: Gold prices rose for a third day today to its highest since November as mounting geopolitical tensions over a new North Korean missile launch stoked demand for safe-haven assets and weighed heavily on the dollar and equities.
US gold futures for December delivery were up 0.7 percent to USD 1,324.40 per ounce.
South Korea and Japan said the missile North Korea launched early on Tuesday landed in Pacific waters east of Hokkaido after flying over the northern Japanese island, in a sharp escalation of tensions on the Korean peninsula.
12:20 pm Rupee weakens: The Indian rupee weakened by 11 paise against the US currency to trade at 64.01 in afternoon session today due to month-end dollar demand from importers and banks.
Forex dealers said month-end demand for the US currency from importers and the sharp fall in equity market put pressure on the rupee.
The 30-share BSE Sensex was down 223.06 points or 0.70 percent at 31,527.76 and the 50-share NSE Nifty fell 68.95 points or 0.70 percent to 9,843.85.
12:11 pm NTPC Limited in focus: NTPC Limited's offer for sale issue, which opened for two days, subscribed 86 percent in noon.
Kulamani Biswal, Director-Finance in an interview to CNBC-TV18 said company's FY18 capacity addition target is of over 5,400 MW, commercialisation target of over 4,000 MW and capital expenditure target of over Rs 28,000 crore.
He expects regulated equity to go up by Rs 5,000-6,000 crore in FY18 and to be over Rs 50,000 crore by end of FY18.
12:06 pm Air India's network expansion: Exhorting employees to re- dedicate themselves to turnaround Air India, its new CMD Rajiv Bansal said the national carrier will continue to expand its network as well as fleet.
This is Bansal's first formal communication with the employees after he was given interim charge as the Chairman and Managing Director last week.
"I have full faith in your capabilities and experience and am sure that we will work as a team and do everything to further strengthen the profitability of the company," he said in a letter to AI employees.
"We have introduced new flights to international destinations and will continue to launch new routes in the days to come. Along with extending our network, we will be inducting new aircraft to augment our fleet with state of the art aircraft like the Dreamliners and A320 Neos," the letter reads.
Bansal replaced Ashwani Lohani who assumed office as the Chairman of the Railway Board.
12:00 pm Market Check: Equity benchmarks remained under pressure, with the Nifty trading below 9,850 level but the broader markets outperformed.
The 30-share BSE Sensex was down 220.87 points or 0.70 percent at 31,529.95 and the 50-share NSE Nifty fell 68.85 points or 0.69 percent to 9,843.95.
The BSE Midcap and Smallcap indices recovered from day's low to trade flat despite weak market breadth. About 1,345 shares declined against 865 advancing shares on the BSE.
11:46 am Heavy rains in Mumbai city: Met Department expects heavy rains to continue in the west coast but sees no cloudburst in Mumbai.
KJ Ramesh of Met Department in an interview to CNBC-TV18 said state governments have been warned about heavy rains.
Heavy rains will shift to central India, he added.
11:30 am Buzzing: Shares of Kamat Hotels touched 52-week high of Rs 68.60, rising more than 9 percent intraday as it has received Canara Bank approval for one-time settlement.
"The company has received an approval from Canara Bank approving the one time settlement proposal (OTS), as per company release.
The company has opted OTS because it has been facing cash flow mismatch due to which the debt has become a non-performing asset.
The repayment under OTS will be completed in two installments which shall be paid latest by 1st week of October, 2017.
11:10 am Lock-in period ends: RBL Bank rallied more than 4 percent amid weak market conditions.
The lock-in period for institutional investors, who bought shares through IPO, ended.
According to experts, the stock is trading at higher multiples due to its strong loan growth and better asset quality compared to peers.
In the quarter ended June 2017, bank's loan growth stood at 40 percent and gross non-performing assets at 1.46 percent.
Federal Bank reported 30 percent loan growth & gross NPAs of 2.42 percent, and DCB Bank 22 percent & 1.74 percent, respectively. IDFC Bank's gross NPA stood at 4.10 percent.
The stock had listed with 22 percent premium on August 31, 2016 and rallied 140 percent from the issue price.
10:58 am Stake sale: Venture Capital firm Norwest Venture Partners offloaded 9.3 percent stake in diagnostics chain Thyrocare Technologies for an estimated over Rs 335 crore through open market transactions.
The shares were picked by Reliance Mutual Fund and Birla Sunlife Mutual Fund, among others.
According to bulk deal data available with BSE, Norwest Venture Partners VII-A-Mauritius offloaded a total of 50 lakh shares, or 9.30 per cent stake, of Thyrocare Technologies.
The shares were sold on in a price range of Rs 670- 670.88 apiece, valuing the transaction at Rs 335.22 crore.
As of June quarter, the venture capital firm owned 50,64,880 shares amounting to 9.43 per cent stake in the diagnostics chain.
Norwest Venture Partners is a global venture capital and growth equity investment firm that manages more than USD 6 billion in capital.
Reliance MF purchased 11.3 lakh shares of Thyrocare Technologies for Rs 75.71 crore (rpt) crore, while Birla Sunlife MF bought 10 lakh scrips of the diagnostics chain for Rs 67 crore. The shares were picked up by them on an average price of Rs 670.
10:40 am Power pact: Union Power Minister Piyush Goyal said India has entered into a pact with Germany to improve parameters for grid integration of renewable energies.
The Ministry of New and Renewable Energy (MNRE) and Deutsche Gesellschaft für Internationale Zusammenarbeit (GIZ) GmbH India on behalf of Germany signed an agreement on technical cooperation under the "Indo-German Energy Programme – Green Energy Corridors (IGEN-GEC)" here.
This relationship between GIZ nad India will result in improved market mechanisms and regulations and help train manpower in India to ensure grid stability to ensure more and more integration of renewables in the country, Goyal said.
10:29 am FII View: Asian markets sink further jolted by North Korean missile test over Japan which led to buying in safe havens assets such as gold, Japanese Yen as well as US Treasuries.
"The North Korean situation is likely to continue being a short-term worry for global markets. I think going forward, markets would be volatile for a while. It would be sensible to take some risk off the table," Manulife AMC's Geoff Lewis said in an interview with CNBC-TV18.
10:15 am Market Check: Equity benchmarks extended losses in morning as the Sensex was down 227.05 points or 0.72 percent at 31,523.77, dragged by index heavyweights HDFC, HDFC Bank, Reliance Industries and Infosys.
The Nifty broke 9,850 level, down 68.95 points or 0.70 percent to 9,843.85.
The broader markets outperformed benchmarks, though they were also under pressure. The BSE Midcap index was down 0.3 percent and Smallcap declined 0.5 percent as about 1,171 shares declined against 705 advancing shares on the BSE.
10:05 am Infosys buyback: Infosys founders are likely to sell some of their stake in the company's Rs 13,000-crore share buyback programme, the company said today.
The promoters' keenness to participate in the buyback comes within days of a silent coup by founders led by N R Narayana Murthy to seize control of India's second-biggest software services firm.
The founders and their families between them hold some 12.75 percent (29.28 crore shares) of Infosys. Murthy declined to comment on if he would participate in the buyback.
The buyback price of Rs 1,150 is higher than the current stock trading price of Rs 941.15 and is considered "reasonably good" by the firm's former CFO V Balakrishnan.
Founded in 1981 by seven engineers – all former employees of Patni Computer Systems – with an initial capital of USD 250, Infosys today has grown into over USD 10 billion company.
9:58 am Buzzing: Share price of Swan Energy gained 4 percent as it subsidiary company entered into contract with Hyundai Heavy Industries Company
Triumph Offshore, 100 percent subsidiary of company, has executed ship building contract with Hyundai Heavy Industries Company, South Korea in connection with its upcoming FSRU project at Jafrabad, Gujarat.
The contract includes the construction of one 180000 CBM LNG Floating Storage and re-gasification unit (FSRU).
Swan
9:45 am OFS opens: NTPC fell more than 4 percent in early trade on equity dilution by the government through offer for sale route.
The offer for sale issue of the country's largest power generation company has opened for subscription today and will remain opened till Wednesday.
In two days, the Government of India will a 5 percent stake (i.e. 41,22,73,220 equity shares) in the company with a greenshoe option to sell an additional 5 percent stake.
The government has set a floor price at Rs 168 per share for the sale through a stock market auction. It will get more than Rs 13,500 crore through this stake sale.
Non-retail investors are allowed to place their bids for the issue on both days while retail investors can participate in the issue on second day i.e. Wednesday.
Retail investors will get shares at a 5 percent discount to the cut-off price.
9:29 am FII View: Alexander Redman of Credit Suisse said the research house recommended that investors refrain from buying into the recent rally in Indian equities and remain 15 percent underweight.
"While we remain constructive on the long-term investment case for India given its sustainable economic growth model underpinned by structural drivers such as urbanisation, superior demographics, improving financial inclusion and productivity catch-up, we wait for a better entry point to participate in this structural growth story," he said.
9:15 am Market Check: Equity benchmarks opened sharply lower on Tuesday on weakness in Asian peers after the launch of missile by North Korea.
The 30-share BSE Sensex was down 128.02 points at 31,622.80 and the 50-share NSE Nifty fell 41.95 points to 9,870.85.
ACC, Bank of Baroda and Tata Power were under pressure, down 1-2 percent after NSE decided to exclude these stocks from Nifty50. HPCL and UPL gained up to 2 percent on addition in Nifty50.
Nifty Midcap was down 0.5 percent on market breadth. About two shares declined for every share rising on the NSE.
DLF lost further, down 2 percent after losing 3.6 percent in previous session despite GIC deal.
Thyrocare, Fortis Healthcare, JP Associates, Biocon and Amara Raja Batteries gained up to 5 percent while Jaypee Infra, RBL Bank, 8K Miles, Dish TV, Bata India and Reliance Infrastructure fell up to 4 percent.
Discussion
Rules of Discussion on Live Index
1. This forum is for discussion of financial markets. Please respect others view even if they are contrary to you.
2. Member's comments should lead to value addition in forum discussion.
3. If anyone is found making repetitive Explicit/Abusive/Racial comments, his account shall be banned and old posts will be deleted.