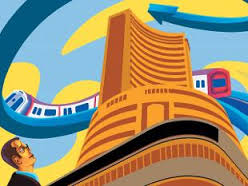 Live Market Updates: Sensex, Nifty end lower; Reliance, Infosys, ONGC drag
3:30 pm Market closing:Benchmark indices closed lower ahead of exit polls for assembly elections, weighed by oil, metals, auto, infra and select private banks stocks. The 30-share BSE Sensex was down 97.62 points at 28901.94 and the 50-share NSE Nifty fell 22.60 points to 8924.30. The broader markets underperformed benchmarks, falling more than 0.6 percent on weak breadth.
About 1758 shares declined against 1069 advancing shares on the BSE.
Reliance Industries, Infosys, ONGC, Mahindra & Mahindra and Tata Steel were biggest losers, down 1-2 percent whereas HDFC Bank, TCS, SBI, ITC and HUL ended moderately higher.
3:21 pm Buzzing: Shares of Power Grid Corporation of India gained more than 1 percent intraday amid high volumes. CLSA has a buy call on the stock after the company won its biggest tariff-based competitive bid (TBCB) project. It is also in high conviction buy list of the brokerage house.
The research firm expects a 50 percent rise in regulated equity in FY16-19 as it feels this USD 600 million project (3 percent of pipeline) not only increases the unregulated asset base (URAB) by 18 percent but is also very profitable at an equity internal rate of return of 13.5-15 percent.
3:11 pm Board meeting: Capital First says the meeting of the debenture committee of the board of directors of the company will be held on March 14 to consider and approve the private placement of rated, listed, secured/ unsecured/ perpetual, redeemable, non-convertible securities in the nature of Debentures to be listed on the Debt Market segment of National Stock Exchange of India.
3:05 pm Telecom merger: Government official said the government aims to seek cabinet approval by May on MTNL and BSNL merger proposal, reports CNBC-TV18 quoting NewsRise.
Prime minister's office asked telecom ministry to prepare MTNL and BSNL merger plan in next 6 weeks. Department of Telecom has been in discussion with BSNL and MTNL on merger prospects.
MTNL share price was quoting at Rs 26.00, up Rs 3.55, or 15.81 percent amid high volumes on the BSE.
2:50 pm Cement price hike: Cement companies have raised product prices in the north market by Rs 10 to 15 per 50 kg bag while reducing them by Rs 5 to 10 in south, according to dealers. This is the second consecutive price hike in the north after cement companies raised the prices by as much in February. Analysts and trade sources blamed rise in input costs for the price hikes even as demand remains subdued.
A top official with a large player in the south told Moneycontrol prices had moved down in Tamil Nadu and Kerala markets due to a weak market.
A cement bag in Delhi now costs anywhere between Rs 290 and Rs 320. A bag in the southern states is now being sold for Rs 390-400.
2:45 pm Buyback: After TCS, IT peer Mindtree is exploring options for buyback of shares and a decision will be taken in the next three to six months, according to a report in The Economic Times.
Mindtree's board has set up a committee to evaluate measures, including buyback, to boost shareholder value, said CEO Rostow Ravanan.
Mindtree is the latest addition to the roster of IT companies that are considering buybacks. Last month, Cognizant had announced a buyback worth USD 3.4 billion. Even TCS followed suit with a Rs 16,000 crore buyback of up to 5.6 crore equity shares.
The buyback plans come amid rising concerns that IT companies are struggling to put excess cash to investment use in a growth-challenged environment.
2:35 pm Buzzing stock: CLSA has initiated coverage on Astral Poly Technik with a buy call and target price of Rs 545 as it expects the company to report a 27 percent EPS CAGR in FY16-19 with sharp improvement in asset turns (ramp-up in adhesives utilisation) leading to strong return on equity expansion. The stock rallied more than 6 percent intraday.
Astral is transitioning from a pipes manufacturer to a scalable building materials franchisee by leveraging its strong brand strength and distribution network. The brokerage house believes a strong EPS CAGR, improving free cash flow generation and returns profile justify premium valuations.
2:26 pm Aviation stocks take-off: Aviation stocks soared high following Delhi Government's announcement of a massive cut in jet fuel tax to 1 percent from 25 percent. The state government cut the tax in a bid to improve North-East connectivity. Among the stocks that led the gain was SpiceJet, jumping over 7 percent intraday. Other major airlines such as Jet Airways and InterGlobe Aviation, which operates an airline under the name 'IndiGo', rose over 6 percent and 4 percent, respectively.
2:08 pm Market Check: The market rebounded from the day's lows, with the Nifty reclaiming its 8900-mark in the afternoon session.
Investors are believed to be having a cautious stance overall ahead of the assembly elections' results and exit polls.
The 30-share Sensex was down 93.50 points at 28906.06, while the Nifty was down 25.65 points at 8921.25. The market breadth was negative, with 958 shares having advanced, 1,720 shares having declined, and 154 shares were unchanged.
Banking stocks such as HDFC Bank, State Bank of India (SBI) and Yes Bank led the recovery, while ONGC, Tata Steel, Hindalco and Idea Cellular continued to lag the index.
Aviation stocks gained after the Delhi Government announced a massive cut in jet fuel tax to 1 percent from 25 percent. Jet Airways gained over 4 percent, SpiceJet was up nearly 4 percent, while InterGlobe Aviation was up 3 percent.
1:55 pm IPO subscription: The Rs 1,870-crore IPO of Avenue Supermarts, the parent company of retail chain D-Mart, has subscribed 0.6 times so far, on the first day today.
The issue will close on March 10, 2017. This is the second major IPO to be rolled out this week, with the first one being that of Music Broadcast Limited, the operator of Radio City FM channel.
Avenue Supermarts has set a price band of Rs 295-299 for this IPO. The bids can be made for a minimum of 50 equity shares and in multiples of 50 shares thereafter.
1:50 pm USFDA audit: Drug maker Dr Reddy's Labs will be put to a crucial test in the second week of April as the company gears up for major USFDA audits at its facilities in Srikakulam located some 70 kms away from port city of Visakhapatnam.
Moneycontrol learned from its sources that the US drug regulator will be inspecting the API plant (also called CTO Unit-6) and special economic zone (SEZ) formulation plant located near Pydibhimavaram village in Srikakulam starting from April 10 to 14.
Srikakulam API plant was issued a warning letter from USFDA in November 2015 and has undertaken remediation measures. USFDA in its warning letter reprimanded the plant for noncompliance of data standards in lab tests, unauthorized access, and poor record keeping practices.
1:40 pm Europe opening: European markets opened lower today as investors took on a defensive approach ahead of the next meeting of the US Federal Reserve. The pan-European Stoxx 600 was 0.09 percent lower with most sectors trading negative.
1:35 pm Oil Update: Oil futures fell in Asian trade after industry data pointed to a potential ninth straight week of inventory builds, renewing concerns about an oversupply of oil despite output curbs by OPEC and non-OPEC members.
Brent futures fell 0.34 percent, to USD 55.73 after settling down 0.2 percent in the previous session.
1:25 pm Buzzing: Shares of MTNL today soared over 8 percent following reports of a renewed discussion of its merger with BSNL.
After a hiatus of few years, the proposal to merge state-run telecom firms BSNL and MTNL is back on the discussion table with top officials at the telecom department once again 'brainstorming' on various options concerning the two loss-making entities.
According to a highly-placed source in the Department of Telecom, a top-level meeting recently discussed possibility of merging both the entities that are facing financial stress due to increasing competition in the sector.
1:10 pm Gainers & losers: Metals stocks were lower again, with Nifty Metal index falling 2 percent on correction in commodity.
Realty declined 1.6 percent followed by Auto and IT.
1:00 pm Market Check: The market remained under pressure in afternoon on caution ahead of exit polls on March 9 after the end of last phase of assembly elections today.
The 30-share BSE Sensex was down 144.05 points at 28,855.51 and the 50-share NSE Nifty fell 40.90 points to 8906.
The broader markets underperformed benchmarks, with the Nifty Midcap and Smallcap indices falling 0.8 percent each. More than two shares declined for every share rising on the BSE.
12:45 PM Buzzing stock: Jaiprakash Power gained over 5 percent intraday on buzz of selling three plants to Brookfield Asset Management.
According to a media report, Brookfield was involved in initial stage talks with the power company to sell these plants of 4,000 MW. The deal could prescribe equity value at Rs 4,500-5,000 crore. If the deal fructifies, it could help Jaiprakash Power pare its whopping debt of Rs 12,000 crore.
12:35 pm FII limit in Kotak Mahindra Bank: Private lender Kotak Mahindra Bank today said its board has approved raising the ceiling for investment by foreign institutional investors to 42 percent.
"The board of directors of the bank has approved, subject to statutory and regulatory approvals as may be necessary, increase in ceiling limit for investment by FIIs/sub-accounts of FIIs, FPIs, QFIs, NRIs and PIOs in the equity share capital of the bank, from 40 percent to 42 percent," Kotak Mahindra Bank said in a BSE filing.
12:26 pm D-Mart IPO update: The initial public offering of Avenue Supermarts that operates retail chain D-Mart was subscribed 0.3X till Wednesday afternoon. This is the issue's first day and will close on March 10, 2017. The issue's price band has been set at Rs 295-299 a share.
12:23 pm BPCL raises Rs 550 crore: Bharat Petroleum Corporation has raised Rs 550 crore through private placement of secured non-convertible debentures at a rate of 7.35 percent per annum.
The proceeds will be used to fund capex, including recoupment of expenditure already incurred, the company told the exchanges.
The stock was down over 2 percent intraday.
12:16 pm Buzzing stock: Dishman Pharmaceuticals & Chemicals shares fell 3.5 percent intraday Wednesday after a fire incident at company's Bavla facility in Ahmedabad. "
There was a fire incident in unit No 7 at Bavla facility on Tuesday late evening and it had been brought under control," the healthcare company said in its BSE filing.
Dishman does not see any major financial impact due to the incident, which helped the share price recover later on.
12:05 pm Market check: Bears were in the grip of the market ahead of key exit polls data for assembly elections in five states. The Nifty snapped its 8900-mark, driven by losses in HDFC and Reliance.
The Sensex was down 152.35 points at 28847.21, while the Nifty was down 47.35 points at 8899.55. The market breadth was in the negative zone as 755 shares had advanced, 1,733 shares declined, while 135 shares are unchanged.
Tata Steel, Hindalco and Adani Ports dragged the indices, while Bharti Airtel, ITC, Yes Bank and Kotak Mahindra Bank gained a tad on both indices.
Kotak Mahindra Bank added nearly 3 percent intraday on Wednesday following reports of stake sale to Canadian pension fund. Uday Kotak is in discussions for a sale of over 3 percent stake in the bank to Caisse de Depot et Placement du Quebec (CPDQ), according to a report on Bloomberg. The stake that Kotak is looking to sell is worth Rs 5,400 crore as of March 7, 2017 closing price.
Shares of SPML Infra rose 9 percent intraday on Wednesday on the back of orders win worth Rs 250 crore for power transmission & distribution projects in West Bengal and Haryana.
Meanwhile, Cadila Healthcare gained 2 percent intraday on Wednesday following multiple developments of dividend announcement and US regulator's approval to a drug. The company's board on Tuesday approved an interim dividend of Rs 3.2 a share for FY17 per equity share, which is much higher than its current face value of Re 1 each, it said in a notification to the exchanges.
HSBC Global Asset Management sees volatility ahead on the market this year. The market is euphoric on optimism on expected earnings as well as liquidity coming in from domestic and foreign investors.
"There is a lot of sustenance in DII numbers and liquidity will continue to remain strong," Tushar Pradhan, CIO of HSBC Global Asset Management (India) said.
However, he added that some gains are pre-empted as earnings for FY17 are yet to come. While market is fairly-valued now, volatility will remain large part of it in the current year, he observed.
11:57 am Interview: SPML Infra has won multiple orders totalling Rs 250 crore for power and T&D and the margins are likely to be 14-15 percent. The company has bid for projects worth Rs 8,000-9,000 crore in wastewater management across Maharashtra, Gujarat and Delhi.
Speaking to CNBC-TV18, Subhash Chand Sethi, Chairman of SPML Infra, said that margins are likely to be in the 10-15 percent higher than the last year. The company's current order book stands at Rs 4,000 crore plus and the debt is at around Rs 800 crore.
The company has won Rs 260 crore in arbitration award and disbursements are likely to be made this year, he said.
11:50 am USFDA nod: Drug firm Zydus Cadila has received approval from the USFDA to market tizanidine hydrochloride capsules, a muscle relaxant, in the American market.
"The company has received final approval from the US Food and Drug Administration (USFDA) to market tizanidine hydrochloride capsules, USP in strengths of 2mg, 4mg and 6mg," Zydus Cadila said in a regulatory filing today.
The drug will be produced at the group's manufacturing SEZ facility in Ahmedabad.
Quoting IMS January 2017 data, the company said tizanidine hydrochloride capsules' estimated sales stood at USD 58.6 million.
11:40 am Buzzing: Shares of Gujarat Fluorochemicals gained 6 percent intraday as its subsidiary will sell all operating wind farms to Leap Green Energy.
"Inox Renewables (IRL), a wholly owned subsidiary of the company and Inox Renewables (Jaisalmer) (IRJL), a wholly-owned subsidiary of IRL, both a part of Inox Group, entered into definitive agreements for sale of substantially all of their operating wind farms to Leap Green Energy and its subsidiaries, on a slump sale basis, for an undisclosed price," as per company release.
"The transaction is subject to fulfillment of certain conditions precedent, and is expected to complete over the next few months," it added.
11:31 am FII View: Ridham Desai of Morgan Stanley says the market could be heading for best year since 2009.
Strong net demand for equities, improving growth and reasonable valuations continue to push equities higher, he adds.
"Be prepared for upside surprises for both growth and stock returns," Desai says.
11:25 am Market Update: The 50-share NSE Nifty tested psychological 8900 level due to further selling pressure ahead of end of assembly elections today.
11:20 am QIP price: Hindalco said the capital raising committee of the company today approved closure of the issue period for the QIP as March 8 and QIP issue price of Rs 189.45 per share.
11:15 am Voting in UP: Over 13 percent votes were polled in the first three hours of the seventh and last phase of Uttar Pradesh elections today in 40 Assembly seats spread over seven districts.
Polling started amidst tight security arrangements this morning with all eyes on Prime Minister Narendra Modi's Lok Sabha constituency Varanasi.
"Over 13 percent votes were polled till 10 AM. The polling is going on peacefully," office of UP Chief Electoral Officer said here.
Three Naxal-affected districts of Sonbhadra, Mirzapur and Chandauli, along with the five Assembly segments under Varanasi Lok Sabha constituency, will be in prime focus.
hazipur, Jaunpur and Bhadoi are the other districts where polling is going on in this phase.
11:05 am USFDA nod: Drug major Glenmark said the US health regulator has cleared its investigational new drug (IND) application to begin a phase two study of GSP 304 to be used for treatment of a respiratory disease.
"The US Food and Drug Administration (FDA) cleared the company's investigational new drug (IND) application to begin a phase two study of GSP 304 (tiotropium bromide) for administration by nebulisation for the long term, once-daily, maintenance treatment of bronchospasm associated with chronic obstructive pulmonary disease (COPD)," Glenmark said in a BSE filing.
Glenmark said it plans to initiate clinical development with a phase two study of GSP 304, a new orally administered formulation, in subjects with mild to moderate COPD, as determined by the Global Initiative for Chronic Obstructive Lung Disease (GOLD) criteria.
11:00 am Market check: Benchmark indices extended losses on caution ahead of exit polls tomorrow for assembly elections that will end today.
The 30-share BSE Sensex was down 114.48 points at 28885.08 and the 50-share NSE Nifty fell 34.80 points to 8912.10, weighed by auto, banks, oil and technology stocks.
About 1447 shares declined against 866 advancing shares on the BSE.
Tata Motors, Axis Bank, Adani Ports, Maruti, ONGC and Tata Steel fell over a percent followed by Reliance Industries and ICICI Bank.
10:45 am Pharma cos get a shot in arm: Pharma majors received a relief after the Delhi High Court allowed the export of both the companies' drugs for R&D. Natco's Sorafenat, Alembic's Rivaroxaban was given a nod by the High Court to export the drugs for regulatory purposes.
Natco's stock was up 2.5 percent intraday, while Alembic's stock was higher by 5.6 percent intraday.
10:38 am Expert Speak: At Rs 295-299 per share, the Initial Public Offering of Avenue Supermarts – the parent of retail chain D-Mart – has been "priced to perfection", according to Sanjiv Bhasin, Executive Vice-President of Markets and Corporate Affairs at IIFL.
Speaking to CNBC-TV18, Bhasin said he expects the IPO to be oversubscribed. Given a paucity of good stocks and the surging Nifty, investors could expect to be rewarded, he said.
Also Read: Will D-Mart IPO ring a bell for a market top out in short term?
10:24 am Trump working on system to cut drug prices: US President Donald Trump said on Tuesday he is developing a plan that will encourage competition in the drug industry and bring down prices for medicines, as the House of Representatives leadership unveiled a new health care plan.
"I am working on a new system where there will be competition in the Drug Industry. Pricing for the American people will come way down!" Trump said in a Twitter post.
Also Read: Buy, sell, hold: 8 stocks that analysts are watching out
10:12 am IPO subscription: The initial public offering of Music Broadcast, a Jagran group firm that runs Radio City FM channel, was oversubscribed 2.19 times on the second day of the issue on Tuesday.
The IPO, which will close today, received bids for 2,29,35,240 shares against the total issue size of 1,04,80,784 shares, data available with the NSE.
The portion set aside for qualified institutional buyers (QIBs) was oversubscribed 1.06 times, while that of non institutional investors 24 per cent.
Retail investors category was oversubscribed 3.66 times.
Music Broadcast IPO comprises fresh issue of shares up to Rs 400 crore and an offer for sale of up to 26.59 lakh scrips. It has fixed a price band of Rs 324-333.
10:00 am Market Check: Benchmark indices continued to be lacklustre in morning trade as investors awaited exit polls due tomorrow after end of last phase of voting Uttar Pradesh elections today. The 30-share BSE Sensex was down 18.14 points at 28,981.42 and the 50-share NSE Nifty fell 2.05 points to 8944.85. The market breadth was almost balanced as about 1026 shares advanced against 905 declining shares on the BSE.
HDFC, ITC, Sun Pharma, Asian Paints, TCS and Lupin were leading contributors to Sensex's gains while Infosys, Reliance Industries, Tata Motors, Hindalco, ONGC ICICI Bank and Maruti were under pressure.
9:55 am Buzzing: Kotak Mahindra Bank added nearly 3 percent intraday following reports of stake sale to Canadian pension fund.
Uday Kotak is reportedly in discussions for a sale of over 3 percent stake in the bank to Caisse de Depot et Placement du Quebec (CPDQ). The stake that Kotak is looking to sell is worth Rs 5,400 crore as of March 7, 2017 closing price.
The stock saw heavy volumes as 2.7 crore shares worth Rs 2,274 crore traded on the BSE at a current market price (CMP) of Rs 824 per share.
The bank was in the news last month for reportedly approaching the government seeking a merger with Axis Bank, sources had told CNBC-TV18.
9:45 am JPMorgan on Ambuja: While assigning overweight rating to Ambuja Cements with a target price of Rs 250 post company's annual report, JPMorgan says announcement of greenfield expansion stands as a key positive for the company.
ACC-Ambuja restructuring got its FIPB nod and deal conclusion in CY16 is a step forward towards realising potential synergy gains over the medium term, it believes.
JPMorgan estimated ex-south industry growth to be lower at sub 2 percent levels, implying that the market share loss for Ambuja is not as severe as market perception. Capacity utilisation has come down to 71 percent levels thereby providing scope for robust volume growth as industry demand trends recover, it says.
Per Ambuja Cements, it feels CY17 is likely to be yet another challenging year though medium term outlook remains positive on the back of government infra focus and affordable housing policies.
9:30 am IPO: Avenue Supermarts, the operator of retail chain D-Mart, has opened its Rs 1,870 crore initial public offering for subscription today.
The company raised nearly Rs 561 crore by allotting shares to anchor investors ahead of its IPO on Tuesday. The price band for the IPO has been set at Rs 295-299. It will close on March 10.
The company has allotted little over 1.87 crore shares to 35 anchor investors at the upper price band of Rs 299 apiece.
Government of Singapore, JP Morgan, Smallcap World Fund, New World Fund, Fidelity, T Rowe Price, HDFC MF, Reliance MF, ICICI Prudential MF and SBI MF are among the anchor investors.
Avenue Supermarts will use issue proceeds for various purposes, including loan repayment.
Also read – As D-Mart parent IPO hits Street, here's all you need to know about it
9:15 am Market Check: The market has opened flat on Wednesday as investors maintained cautious stance ahead of exit polls for assembly elections that will end today with last phase in Uttar Pradesh.
The 30-share BSE Sensex was down 20.72 points at 28978.84 and the 50-share NSE Nifty fell 3.90 points to 8943. About 467 shares advanced against 239 declining shares on the BSE.
Hero Motocorp, Cipla, ONGC, Asian Paints, Tata Steel, Kotak Mahindra Bank and Bank of Baroda were early gainers while Infosys, Reliance Industries, Wipro, Bharti Airtel, Dr Reddy's Labs, Bharti Infratel, Aurobindo Pharma and Idea Cellular were under pressure.
The Indian rupee has opened higher by 5 paise at 66.62 per dollar versus previous close 66.67.
NS Venkatesh of Lakshmi Vilas Bank says the rupee is expected to take cues from the equity market today and flows from the FPIs.
He expects USD-INR pair to trade within a narrow range of 66.60-66.83/dollar.
The dollar hit a two-month high against a basket of key currencies last week as Federal Reserve officials talked up the chances of a rate hike this month, but the greenback is now sitting in a narrow range with a hike seen mostly as a done deal.
Asian equities were mixed amid mounting geopolitical risks in the region and rising expectations that the Federal Reserve would tighten monetary policy next week.
Discussion
Rules of Discussion on Live Index
1. This forum is for discussion of financial markets. Please respect others view even if they are contrary to you.
2. Member's comments should lead to value addition in forum discussion.
3. If anyone is found making repetitive Explicit/Abusive/Racial comments, his account shall be banned and old posts will be deleted.