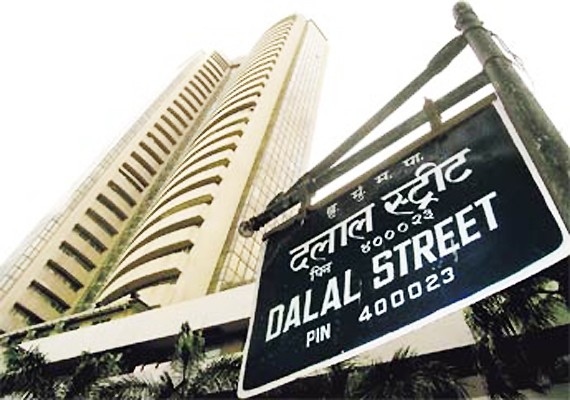 India : Sensex tanks 1000 pts as Trump leads Clinton; Realty sinks 15%
The Sensex was down 1,009.24 points or 3.66 percent at 26581.90, and the Nifty down 328.40 points or 3.84 percent at 8215.15.
Equity benchmarks started falling further as Donald Trump leading Hillary Clinton in the US presidential elections.
Realty stocks hit badly after the Prime Minister Narendra Modi announced a ban on Rs 1,000 and Rs 500 notes to curb the black money.
Nifty Realty Index fell nearly 17 percent as Indiabulls Real Estate, DLF and HDIL were down 22-25 percent after the government's measures to curb the black money.
Nilesh Shah, MD & CEO , Envision Capital, said this is a perfect reform and perfect step towards nation building.
He said this is significantly going to raise India's image and ratings internationally.
It will create some disruption in the near term but it is a fantastic buying opportunity from the long term perspective.
He further said banks and financial sectors will benefit the most out of all of this. These sectors unduly got battered today but in the long term they will recover.
Anti-black money move augurs well for inflation: Brokers
"We believe the move (to scrap old Rs 500 and Rs 1000 notes) generally bodes well for the inflation outlook since black money was associated with higher inflation," says broking firm Nomura in a note to clients. However, it is likely to hurt near-term consumption demand, Nomura cautions.
IDFC Securities too sees a similar link between inflation and the anti-black money move.
"With counterfeit and black money going out of system, it will have an easing impact on inflation," says the IDFC Securities note.
"Thus it would negate inflationary impact of GST (if any). As India moves towards being a digital cash economy, India's economic growth will get a boost from structurally lower inflation," the note says.
Dow futures plunged more than 800 points and bonds rallied as markets feared Donald Trump could pull off an upset and take the White House.S&P 500 futures fell more than 5 percent just before midnight ET. Trade volume in eMini S&P futures was about 17 times their average daily volume, according to a note from Citi.
Investors moved into the safety of bonds Tuesday evening and stock futures cratered as traders questioned whether Democrat Hillary Clinton could still win the race, as expected. The Mexican peso fell 10 percent against the US dollar.
Safe-haven currencies surged as investors remained on the edge while waiting for U.S. polling results.
The yen climbed from an earlier session low of 105.46 to as high as 101.44 versus the dollar.
Yen crosses also gained, with the euro/yen pair at 114.31, down from an earlier high of 116.02, while pound/yen traded at 127.53, down from levels near 130. The Japanese currency also strengthened against the Australian dollar, climbing from levels near 82.00 to as high as 77.27.
The Swiss franc climbed to a session high of 0.9576 against the dollar from an earlier low of 0.9835..
The brokerage house views the measures as a big positive reform measure though would likely lead to both transitory and permanent changes in sectors: 1) transitory – a shift to organized and legalised channels in the medium term for activities and sectors such as payment/collection for loans, OTC sales in pharma, building materials and 2) on a more permanent basis, sectors such as real estate, and jewellery could slowdown.
Banks, it believes, stand to gain from the deposits they can garner though the impact of slowdown in property market could result in some stress in the already
slowing LAP (loans against property) and in general, the cash based payments of instalments could slowdown.

Hindalco board meet on Nov 12: A meeting of the board of directors of the company, scheduled on November 12, 2016 will consider approval of raising of funds by issue of equity shares, global depository receipts/ American depository receipts/, foreign currency convertible bonds/, fully convertible debentures/partly convertible debentures/ preference shares convertible into equity Shares, and/or any other financial instruments convertible into equity shares (including warrants, or otherwise, in registered or bearer form) and/or any security convertible into equity shares.
Sunil Singhania of Reliance MF said he is optimistic on the government's move to curb the black money and feels it is good for India's financial space and further improvement in GDP.
The ban on Rs 500 and Rs 1000 currency is going to formalise the shadow economy, says Sanjay Mookim, Director, India Equity strategy, Bank of America Merrill Lynch. It will also lead to potential reduction in corruptions and help increase tax collections.
The government's move will also have a negative impact on consumption in the country, he adds.
For US elections, he says it was an unpleasant surprise as Trump leading Clinton for the race of White House.
Oil prices tumbled as vote counting showed Republican Donald Trump doing better than expected in several crucial battleground states in the US presidential election.
US West Texas Intermediate (WTI) crude futures fell to a session low of USD 43.07 per barrel, down more than 4 percent from their last close and their lowest since September, before inching back to USD 43.32 a barrel.
International Brent crude futures were down 3.2 percent at USD 44.56 a barrel.
Republican party candidate Donald Trump needs 26 electoral votes to become US President. He is leading in 244 seats against Clinton 209 seats.
Taro Pharmaceutical Industries, the subsidiary of Sun Pharma, has reported a 7.2 percent degrowth in second quarter profit at USD 123.7 million despite higher operating income.
"The increase in operating income was offset by the decrease in forex income and an increase in tax expense, resulting in diluted earnings per share of USD 3 compared to USD 3.11 YoY," the healthcare company explained the reason for lower bottomline.
Revenue during July-September quarter increased 7.9 percent year-on-year to USD 228.8 million, driven by the US generic business.
Adrian Mowat, Managing Director, Chief Asian and Emerging Market Equity Strategist, JPMorgan advises to refrain from buying into the market today as it likely to go lower.
There is going to be a lot of volatility in the global markets if Hillary Clinton loses the US elections, he says. This is due to the vacuum of information until more clarity on the policies he employs in US emerges.
A Trump victory is going to be a bigger and more impactful shocker than Brexit. A decline in dollar has much broader implications that the sterling.
But Mowat adds that despite having a global impact, India is comparatively isolated on the Trump news compared to the other emerging markets, especially China and Mexico.
"Trump is a businessman and hopefully he will be more pragmatic than ideological," says Vineet Nayyar of Tech Mahindra.
"Yes there will be problems, but overall IT spend is a tiny drop in the spend of corporations, and I don't think Trump will reverse that.
He raised all kind of issues in his campaign, but IT has not been a focus area for him," Nayyar says.
Global markets will have a period of prolonged uncertainty if Trump wins, says Ramesh Damani. That is because Trump's main election promise has been curbs on free trade and on immigration, and he may be under pressure to talk about that in the first month of office. However, Trump is a businessman and he will not favour any policy that could lead to potential recession, says Damani
The correction that comes out of this and the US elections will be a good buying opportunity for investors to buy into the market. The short-term investors may suffer for a few weeks.

About 13 shares declined for every share rising on the BSE.
US Elections Live: Clinton in 209, wins California; Trump in 232, takes Florida
Precious metals rally: Gold jumped nearly 4 percent to its strongest in more than five weeks as investors sought safe havens with Republican Donald Trump leading Democrat Hillary Clinton in the race for the White House.
It marked gold's biggest single-day gain since June when it rose as much as 8 percent when Britain decided to leave the European Union.
Trump won the key battleground state of Ohio and led Clinton in a series of other states that were too close to call, including Florida and North Carolina.
Nilesh Shah says the business models of both these industries are still good and represent good buying opportunity.
IT industry's problem is not a possible Trump win alone, he says, adding that growth visibility is an issue even if valuations have corrected significantly. He would rather bet on pharma where the growth visibility is still better as well as valuations have become cheaper.
Japan's Nikkei 225 shed 4.12 percent, after rising more than 1 percent, as the yen, regarded as a safe haven currency, climbed amid nervousness over the vote.
Discussion
Rules of Discussion on Live Index
1. This forum is for discussion of financial markets. Please respect others view even if they are contrary to you.
2. Member's comments should lead to value addition in forum discussion.
3. If anyone is found making repetitive Explicit/Abusive/Racial comments, his account shall be banned and old posts will be deleted.