Another HH HL week has passed, new all time High at 18623, still creeping, typical for August when participants show less interest in the markets, and the volume lowers gear.
As expected in the last review, the market reacted soon as it reached the previous Daily bullish setup (missed the target 18625 by two points) .
Mentioned in the previous reviews, we are in a major Weekly swing bullish setup pointing at 19200 as a target. The current stops for this setup are below 18170, below a Weekly pinbar which is a setup by itself to reach the level of 18760 approximately.
On the way up, the next important resistance is the 16683 level which is the 161.8% extension of the Brexit poll bearish reaction. Notice that it is exactly the target for the last Friday's bullish pinbar on a sloping 8 EMA. A thrust up above that last Daily bar should start the move to that spot.
Pay attention that the target is very closed to the 161.8% extension level of the whole correction that took place from April to June, at 18776. Also the Monthly upper Bollinger Band is at 18764. These three indications may point that a Weekly reaction (at least) is expected once we get closed to those levels.
As for the bearish side, Although the bullish momentum on the Weekly and Daily is currently rather weak, there isn't any indication in the Daily and above timeframes for the bearish side. In lower timeframes keep in mind that the area of 18330 to 18400 is a very strong support, that should hold the market at least for the first bearish setup down. So, in those situations of a first bearish attempt, it is much better to wait for a failure of reaching targets, and buy signs of strength.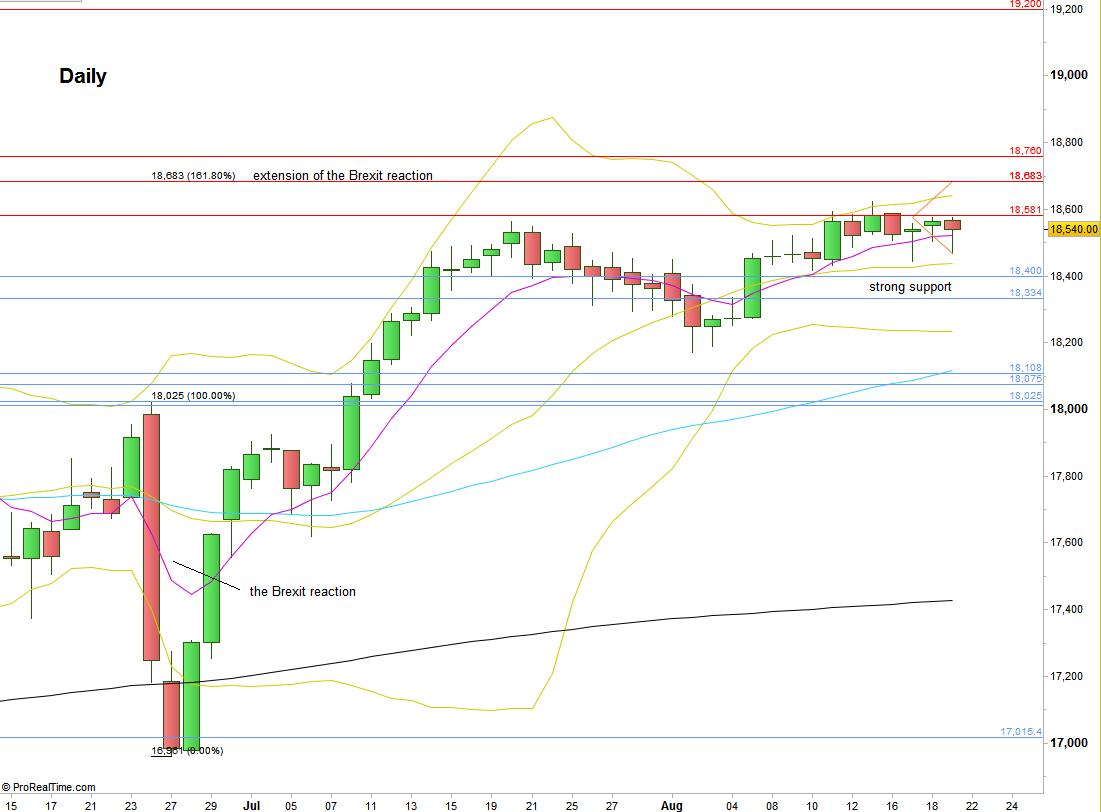 Disclaimer: Anyone who takes action by this article does it at his own risk and understanding, and the writer won't have any liability for any damages caused by this action.