European stocks log worst quarter since the Covid outbreak as investors stress over inflation and rate hikes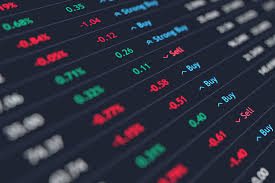 The pan-European Stoxx 600 index closed 1.6% lower with all sectors in negative territory. Banks were lower by 2.8% as a banking supervisor in the euro zone asked lenders to assess their recession risks.
The benchmark index ended the second quarter of the year down 9% — the worst three-month period since the onset of the coronavirus pandemic in 2020. Year-to-date the index is down by 16.6%.
Swedish aerospace and defense company Saab was one of the best performers on the index. It was up 4% after it received a 7.3 billion Swedish crown ($713.9 million) order for two of its GlobalEye Airborne Early Warning and Control aircraft planned for delivery in 2027.
The worst performer was German energy company Uniper. Its shares were down a massive 14% after it withdrew its financial outlook for 2022 on Gazprom gas supply restrictions.
The company said it had received only 40% of the contractually agreed gas volumes from Gazprom since June 16 against the backdrop of war in Ukraine. It expects its adjusted earnings before interest and taxes and adjusted net income for the first half of 2022 to be significantly below last year's levels
Meanwhile on Wall Street, stocks fell sharply Thursday, as the S&P 500 capped off its worst first half in more than 50 years. The tech-heavy Nasdaq Composite is down more than 20% over the last three months, its worst stretch since 2008.
The tech-heavy Nasdaq Composite is down more than 20% over the last three months, its worst stretch since 2008.
On the data front in the U.S., the core personal consumption expenditures price index, the Fed's preferred inflation measure, rose 4.7% in May, the Commerce Department reported Thursday. That's 0.2 percentage points less than the month before, but still around levels last seen in the 1980s.
In other news, investors digested the latest developments from the NATO summit in Madrid. NATO leaders have invited Sweden and Finland to join the alliance after Turkey withdrew its objections to the new members and the organization reiterated its support for Ukraine as well as outlined its plans to revamp its deterrence and defense strategy.